Teacher Keeps A Stock Of 'Menstruation Kits' For Girls Getting Their First Periods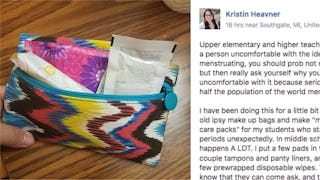 Image via Kristin Heavner
Middle school teacher Kristin Heavner is making first periods so much easier
Quick, ladies — remember when you got your first period? How awkward was that? I was at a 3-on-3 basketball tournament, and my mom got me a huge, bulky maxi pad from a vending machine and then loudly gushed in a crowded public bathroom about how I was "a woman now." Eleven-year-old me could have died.
More than half the population menstruates, but that doesn't make it any less awkward the first time. One Detroit middle school teacher is doing what she can to combat that for her students.
Kristin Heavner, a teacher at University Prep Academy Middle School, shared a photo on Facebook of the adorable "menstruation care packs" she makes for her students who get their first surprise visits from Aunt Flo at school. She repurposes cute, patterned makeup bags from the makeup subscription service Ipsy, and packs each one pads, tampons, panty liners and individually wrapped wet wipes.
"The students know that they can come ask, and they get a really pretty bag with their needed supplies inside," she wrote. "It's discreet and more fun that being handed a giant pad. I make sure to tell them to take as much as they may need for the whole day. I make a point to ask if they need more to take home."
What a genius idea, right? I know getting a pretty new makeup bag and a solid set of supplies would have taken a lot of that awkward sting out of my first time. It's a small way to support girls during what is, for many of them, a tough part of growing up.
"I've been teaching since 2004. I started doing this in this way last year, because it seemed like a really simple way to make a potentially embarrassing situation a little bit easier," Heaver told Scary Mommy. "It would be really cool for parents of teens who have a period to make these for their own kids, and maybe provide something like this for teachers as well!"
You heard her: Parents, these would be awesome to make for your kids' teachers to have on hand. Heavner wrote in her post that she was inspired to share because it's back to school time, and she wants others to use the idea if they want to. Here's hoping they do, and that this practice takes off.