Teacher Invites 20 Students To Be In Her Wedding And The Photos Are Everything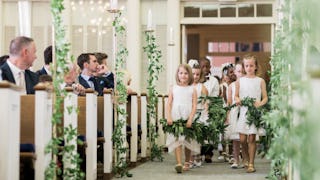 Image via Cory and Jackie Wedding Photography
The pack of kindergarteners and first graders did an amazing job
We've said it one hundred times and we'll say it two hundred more: teachers are heroes. They devote themselves to educating our kids and helping them develop into good citizens, and they do it with long hours and little pay. And if that wasn't enough, now they're inviting entire classes of five- and six-year-olds to their weddings.
On June 24th, Indiana teacher Marielle Slagel Keller married the man of her dreams at the First Baptist Church of Indianapolis. It was a beautiful ceremony, with candles lining the aisles, the bridesmaids in soft pink dresses, and 20 excited and nervous kindergarteners and first-graders there to watch their teacher get married.
In fact, they did more than just watch — Keller had her students acts as flower girls and ring bearers. Wedding photographers Cory and Jackie caught the sweet images.
Slagel Keller told ABC News that having her students play a part in her wedding was "everything" to her. "They're the kids that mean the most to me. They're a part of who I am," she said. Her now-husband, Mike Keller, reacted to her plan the way anyone whose fiancé told them they wanted almost two dozen small children at their wedding would — with enthusiasm on the outside and a dark, cold fear on the inside: "I said, 'This is lovely,' but in the back of my mind, I'm thinking, 'There's a 25 percent chance this will go according to plan. I thought, 'This is going to be interesting: a herd of 6-year-olds coming down the aisle in this very important moment.'"
Luckily, it went off without a hitch and turned out to be a very special part of a very special day. The kids (many of whom had never been to a wedding before) walked down the aisle, all dressed in white, and they totally held it together during the ceremony…almost. "There were a couple that shielded their eyes when we kissed," Slagel Keller said.
Right after the vows, the Kellers had a "cupcake ceremony" for the kids, which was a stroke of genius and something that of course a teacher would think of.
The kids had a great time and were thrilled to be there supporting a teacher who they clearly adore. Said Keller: "…right afterward…I'm immediately sidelined by the entire pack of children running to give her a huge hug. You could tell they really love her. They were so excited."
Not many people — regardless of how much they love their students — would invite them to their wedding, let alone have them play a role in it. But for Slagel Keller, it was never a question: "I'm really close to their families, too. They supported me throughout this wedding planning process, so it wouldn't have been right to not have them be there the day of…To have those kids walk down the aisle for me was really special. There were a lot of tears."
This article was originally published on