A Middle School Teacher Was Fired After Her Private, Topless Picture Was Leaked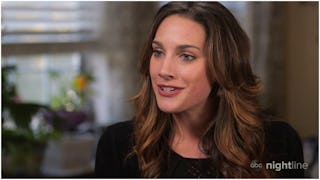 Image via Nightline
A middle school teacher is fighting back after being fired for a leaked topless picture
Three years ago, middle school math teacher Lauren Miranda sent a topless picture to her then-boyfriend. That photo, inexplicably, eventually landed in the possession of a student, was circulated around, and led to Miranda being fired. Now, Miranda is fighting back hard. She's suing the school for $3 million – and making a powerful statement about gender discrimination along the way.
Miranda tells ABC News that she received a text message from another teacher on January 11 that read: "The kids…are saying they have a naked photo of you." At first, Miranda was confused. She had never sent any pictures to her students. Turns out, it was an old private photo that had been leaked. Miranda was put on a home assignment and was told to stay put, "lay low," and not talk to anybody at school.
She was fired in late March.
Why did the school decide to terminate Miranda, who received high performance evaluations and was on track to getting tenure in June, because she had once sent a private picture to her significant other?
According to a letter superintendent Joseph Giani sent Miranda that was obtained by Buzzfeed News, the teacher "caused, allowed, or otherwise made it possible for a nude and/or inappropriate photograph of [herself] to be distributed." She was faulted for sending the topless picture to a colleague (Miranda's then-boyfriend taught in the same school district). He also blamed her for not taking "adequate precautionary measures" to make sure that her picture was not circulated to students.
Seeing as she had only sent the picture to one person who she trusted, this argument should have zero validity. Also, as Miranda's attorney John Ray explained in a press conference, there's a ridiculous double standard happening here.
"Any time a man has ever exposed his chest, no one has ever commented or had any problem with it whatsoever," he said. "But, when a woman displays her chest, as happened here, she gets fired from her job." Miranda is accusing the school district of gender discrimination and suing for $3 million unless they rehire her.
She also told ABC News that her experience reflects the vulnerable, deeply intrusive leaks that have happened to young female students at her school
"This happens all the time; girls have their photos AirDropped," she said. "In the high school, I can think of three separate instances in my four years alone that a girl has had her, you know, naked picture, whatever it might be, sent all amongst her peers. So we expect this girl to go back to school, to go about her life, to continue doing, you know, her routines and whatever."
Miranda also shared the topless picture of herself for publication in Buzzfeed, because she wanted to break down the unfair stigma surrounding a woman's body. "So, here. I shared this image with caution. I am a human. I am a woman," she said in a statement. "My upper torso is no more offensive than a man's."
This article was originally published on