What The School Year Is Like When You're A Mom And A Teacher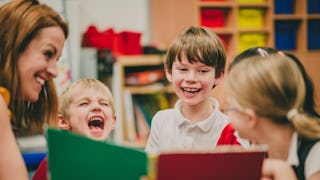 DGLimages / Getty
To all of the other teacher/moms out there,
I hear you. I am feeling the same guilt that you are feeling. We work long hours at school to feel successful and caught up with our work, all while sacrificing our time with our families. If you are anything like me, then you feel like your heart is always torn in two. I am here to tell you… forgive yourself for wanting to do it all.
I Love My Career
Just like you, I worked very hard to get where I am today. I went to college, received my certifications, and earned a Master's degree, all while juggling a family (and drinking ridiculous amounts of caffeine). I am at work early in the morning and late in the afternoon, planning for the next day. I did this because this career means everything to me.
As a teacher, I get to help other people's children learn how to become productive members of our society. I get to help students read, multiply, conduct experiments, be a better friend to others, and about a few hundred more skills they need to survive in this world. For some of my students, I am their other parent, their counselor, their nurse. The person that encourages them to keep coming back every day. The one person that may have provided a hug that day. It is a difficult and huge job that we do. Yes, I am guilty of complaining about the little things (like dealing with a broken copier, or a mean parent), but I come back, day after day, and give it all that I have to make humanity better.
People outside of the education field will never truly get it. I spend my own money to make my classroom beautiful and an engaging place for students to learn. I spend my summers thinking of how to make next year better. I go to professional development and workshops to perfect my craft outside of the school day. When I go shopping, I buy extra school supplies because I know I have kids coming my way that have the latest and greatest gadgets, clothes and shoes, but can't seem to bring a pencil or paper. I panic because I have to slap together lesson plans when I have to call a substitute because my kids are too sick to go to the daycare. I do it because the sacrifice will always be worth it.
I Love My Family
My kids are more beautiful than I ever imagined they would be. My 4-year-old son, Daniel, is silly, intelligent, loving, and the pickiest eater, while my 1 year old, William, is curious and wants to eat everything he can get his hands on. There are mornings I have left for work before they have woken up for the day. There have been many evenings (more than I care to think about) when I missed all of the ritual, and they have already gone to bed. I've missed our dinner conversations about who he played with at school that day. The chance to brush and floss our teeth together as we dance to the "Brush Your Teeth" song. The chance to read the bedtime story that we've read so many times before. I've missed my chance to love on them for the day. Those times are the hardest and the guilt comes flooding in.
The Struggle of Balancing It All
I am here to tell you that being a teacher and a mother requires balance. Many would say, "But the choice is simple. Your family always comes first." Don't get me wrong. They do. But my students deserve almost as much as my family. They are my second family. Often, I find that when I am with one family, I am thinking of the other. My students deserve consistency because for many of them, there isn't a solid foundation at home. These are children that have been entrusted into my care, and their futures are depending on me.
I face a lot of questions when I am feeling the struggle of the teacher/mom life. Did I spend enough time with family today? Did I spend enough time reflecting on my student's needs today? Have I inspired my boys that a strong work ethic leads to success? Have I inspired my students that a good education can lead to success?
The way I try to balance everything is by getting all of my work done at school, so that I can be with my family 100% when I finally go home for the night. I also refuse to work weekends. If it wasn't important enough to finish during the week, I certainly won't work on it when I am relaxing with my boys.
My Worries and Celebrations
Luckily, my boys are still young enough that they don't realize that I'm not around as often as I'd like to be. But I worry that my boys will come to think that I love my job more than I love them. I worry that I will blink and my boys will be grown and gone. I also worry that if I stayed home with my kids, I would resent them for taking away my professional opportunities and I wouldn't have enough money to retire. I worry that others who aren't in our similar circumstances will say we are selfish with our choices to love our jobs so much that we "neglect" our families.
However, while I'm at school, my boys are reaping the benefits of a social environment at their daycare. They spend a lot of time with their incredible father. Our dual income household allows us to live a very comfortable life. I am helping to make a direct impact in my community. And lastly, I continue to lead an intellectual life that allows me to work and collaborate with fellow adults.
Teacher/Moms, we can do this. It's going to feel like we are drowning for a while. But I am a believer of quality, not quantity. Make the moments you have with your family count. But also realize that kids are resilient enough to recover from a missed bedtime story every now and again.
If you are anything like me, then you know we are great moms and we are great teachers.
And we should never apologize for being both.
This article was originally published on