Teacher Under Fire For Making Racist Anti-Asian Gestures During Lesson
by Julie Scagell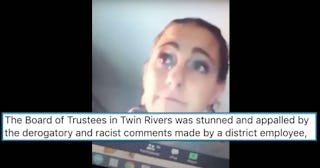 YouTube/Twin Rivers United School District Facebook
A High School teacher is now under investigation by the school district for using a racist gesture to describe people of East Asian descent
A Grant High School teacher's behavior on a recent Zoom lesson with her class is being met with outrage among many members of the community. Spanish teacher and class of 2022 student advisor Nicole Burkett was recorded making a "slant eyes" face — an offensive and racist stereotype and gesture to describe people of East Asian descent.
The video shows the Northern California teacher doing the racist gesture by pulling her eyes up and down during a Zoom lesson, explaining to students that this is how to identify someone's ethnicity. "If your eyes go up, you're Chinese," Burkett said, pulling her eyes out and upwards. "If they go down, they're Japanese. If they're just straight, you don't know."
Twin Rivers Unified School District said that the video was "shocking" and "disappointing." The district has opened an investigation into the incident. Given that in the past few weeks alone, there have been more than 20 attacks on Asian-Americans in the U.S., this behavior has no place in any school system or community.
"The video…does not represent the values held by Twin Rivers and the community," Twin Rivers Unified School District spokesperson Zenobia Gerald said in a statement. "An investigation was immediately launched when we were notified about the video. Please know that Twin Rivers is committed to providing all students with a safe and civil learning environment in which all members of the school community are treated with dignity and respect. We do not tolerate any form of racism from any member of our school community."
In the video, a student can be heard saying, "I should, I should leave your class right now."
School Board President Michelle Rivas posted the following to the school's Facebook page, saying in part: "The Board of Trustees in Twin Rivers was stunned and appalled by the derogatory and racist comments made by a district employee, which have been posted to social media and are prompting understandable outrage throughout our community. On behalf of the entire Board and District administration, I want our community to know that this matter has our full attention and is being taken very seriously."
The Sacramento Asian/ Pacific Islander (API) Regional Network has created a Change.org petition for action to be taken against Burkett, including a public apology, mandatory racism training, and for the district itself to "adopt and fully implement a strong ethnic studies core curriculum to be taught in Twin Rivers Unified School District."
"We call on TRUSD and GHS to condemn any acts of racism from the entirety of its institution and prioritize the safety of our young people and the quality of their education," they said on the petition, noting that since the beginning of the pandemic, "2,808 anti-Asian hate incidents were reported within 41 weeks throughout our state and nation."
It is appalling that this is still happening in 2021.