Teacher Raises Enough Money To Buy Bikes For Every Student At School
by Mike Julianelle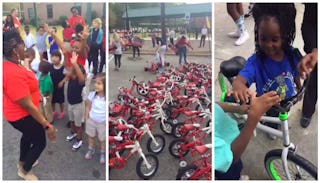 Image via Facebook
A teacher finds a way to provide bikes for every student at her elementary school
In a move that would impress even Oprah Winfrey, an elementary school teacher in South Carolina surprised every student at her school with a brand new bicycle.
An article on Today details the efforts of first grade teacher Katie Blomquist to provide her students with the bikes.
Blomquist teaches at North Charleston's Pepperhill Elementary School in South Carolina, an area in which many families live in poverty and can't afford bicycles. In 2016, after one of her students mentioned that he wanted a bike his family couldn't afford, she got an idea.
"I started thinking about all the other kids who might not have bikes. We take a lot for granted and we forget that there's a large category of kids out there who don't have bikes," Blomquist says. "That was such a large piece of my childhood memories, and I immediately thought, 'oh, they're not getting that!'"
She decided to step up, eventually changing her focus from first grade to the school's entire student body, "I don't want to leave anybody out."
So Blomquist started a GoFundMe called "Every Kid Deserves a Bike!" and set a goal of $65,000 in order to provide bikes and helmets for all 650 kids at Pepperhill. The page raised over $80,000 in three months.
She got some help from Radio Flyer, who donated 100 big-wheel tricycles and training bikes for the pre-schoolers, and local business Affordabike donated bike locks and bells and customized the 550 bigger bikes, naming each one "The Future" and adding the phrase "Let's go places" to their frames.
On Thursday, after months of working "when I got home from work until midnight every night," the bikes arrived, to the delight of the students who hugged, jumped, and shrieked with happiness.
"I made a really conscious effort to watch their faces and let it soak in and imprint in my brain when those tarps went up," she says. "It was that moment I've been waiting for seven months."
Raising money for that many bikes and making sure not a single student got left out was quite an ambitious project. But it was one Katie Blomquist was more than cut out for.
"I just knew it would happen for her because she's one of those spunky people who gets things done," school principal Tanya Underwood says. "She's bubbly, energetic. Loves her students. She's an out-of-the-box thinker. She's full of life and energy and she shares that with her kids every day."
I think it's safe to say that shares more than just life and energy, especially now that she's started a new fundraising effort, Going Places, to continue providing kids in need with items and experiences they'd otherwise miss out on.
When I was a kid, all I did was ride my bike. My brother and our friends rode around the neighborhood, on makeshift paths through the woods, and even through town to visit the mall and candy shops. I can't imagine childhood without a bike.
Apparently, Katie Blomquist can't either, and now her efforts to give those kids that same experience have paid off, neither will they.
This article was originally published on