Teacher Threatens To Leave Kids Out Of Class Party If They Don't Bring Food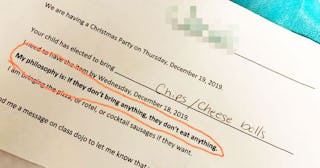 Takaria Scott/Facebook
This teacher's note about students not eating is enraging
This is the time of year for holiday parties for kids, but one mom was outraged by the note her child's teacher sent her about the event.
Mom Takaria Scott posted the letter she received and it struck a nerve with most who read it. Her daughter was having a Christmas party at her school and was requested to bring chips or cheese balls. It seemed innocent enough until she kept reading and saw a line circled with a highlighter stating that "My philosophy is: if they don't bring anything they don't eat anything."
"Now for these kids to be between 6-7yrs this should not be a philosophy. Kids are kids man," she wrote next to the photo. "This is definitely not acceptable in my eyes." The fact that a child would be told they can't have anything to eat because they didn't bring a dish to share is ridiculous. This is shaming behavior and should never be tolerated. Perhaps the parent can't afford to offer an item, or maybe they just forget with the 1,000 letters and emails coming from our kids' schools, especially this time of year. Regardless of the reason, a child shouldn't be called out and ostracized because of it.
Luckily, her daughter's school agreed. After hearing complaints from parents, they issued a letter addressing the issue. "And then this happened," Scott shared. "Thanks too you all that reached out in this matter as well!!! It was handled!!!"
"We want our students to view school as a safe space," said Dr. Amy Carter, MPSD Superintendent in the letter. "Our students should know when they come to school, that they are in an environment where they are nurtured by their teacher." She also added that "all students will participate and no students will be made to feel uncomfortable if they don't bring refreshments."
It's a teacher's job to teach compassion and promote an environment of sharing. It would be awful to think of kids being forced to watch others eat while they just sat there — especially since this was a holiday party. "We know that so many of our teachers go above and beyond to make the holidays a joy for so many," the letter continued. Maybe this teacher could learn a little something from their coworkers about what it means to be giving.
"I'm not completely satisfied about the [school's] response because I'm not sure something happened to the teacher," Scott tells Scary Mommy. "I appreciate everyone who reached out in this matter. I hope this doesn't happen to anyone else's child."
Of course, teachers usually do go above and beyond, many giving their own money for school supplies, books, and other items they don't receive from parents — and it doesn't go unnoticed. Understandably, teachers can't afford to foot the bill on every occasion, but if there is concern there may not be enough food, perhaps a holiday party involving food isn't a good idea? Bottom line, leaving out a child is never a good idea.
Luckily, it seems this school took immediate action and everyone at the elementary school will be able to participate.