Former Teacher Shares Her Own Failed Standardized Test To Prove Scores Don't Matter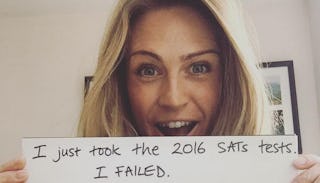 This former teacher's post about failing a standardized test is going viral
As the school year draws to a close, many parents are scrambling to help kids finish last minute projects and prepare for all manner of assessments, tests, and final exams. From elementary school to college, administrators want to know what students have learned, and there's a lot of pressure on kids to perform. But a former teacher wants students to know there's more to life than test scores, and to prove it, she's sharing her own results from a standardized test given to most 10-year-olds in the UK, because spoiler alert: she failed it.
Abi Elphinstone is a Scottish author and ex-English teacher, who recently shared her SATs scores in a viral post on Facebook. The SATs she took aren't the American version. Rather, it's a standardized test UK students take to evaluate their progress compared to other kids in their same grade level. Out of a possible score of 100 in each subject, Elphinstone got a 25 in math and 40 in English.
She posted her scores to her author page, along with a sign that reads, "I just took the 2016 SATs tests. I failed… Kids, you don't need to know what a modal verb or a subordinating conjunctive is to get where you want to go in life. You need ideas + passion — so go on adventures, dream BIG, and don't worry about your SATs scores."
In the caption on her post, Elphinstone explains that she's dyslexic and got 96 rejections from literary agents while trying to get her books published. She says she very much agrees with teaching kids the value of "grit" and "determination" and encouraging them to take academics seriously, but also thinks too many tests contain "irrelevant and obscure information that does little to enrich a child's learning." Adds Elphinstone, "A system that champions modal verbs over creativity and imaginative flair will never be a system that I can get behind."
[shareable_quote]We do kids a disservice when we allow them to think nothing matters more than bubbling in the correct answers.[/shareable_quote]
Since her post went up, it's been shared over 141,000 times by people all over the world. Some, of course, disagree with her argument, but many more have commented to thank her for a much-needed reality check. Wrote one mom, "I have just sat for an hour with my 15 year old crying over his school work because it makes up 25 per cent of his final grade next year….well I said to him I have drive, ambition, my own business, hard work ethic and no gcse [degree] and I have a good happy life …..life is too precious to cry over exams. [sic]"
Obviously a strong knowledge of math, grammar, and other core subjects helps with whatever a child hopes to do in the future, but it's important to remember that test scores and academic accolades alone do not make a person successful. A test or a project might provide a good snapshot of where a child is at the moment, but it's a very poor indicator of their ultimate abilities or potential, and we do kids a disservice when we allow them to think nothing matters more than bubbling in the correct answers.
Elphinstone's post has been shared so widely because it resonates with all of us. We've all grown up and left school behind, and know the complexity of life outside those walls. We look at our beautiful, vibrant children and see so much more than test scores. They all have bright futures, and it's important that they know it.