Teacher Shares Heartbreaking Notes From Her Third Grade Class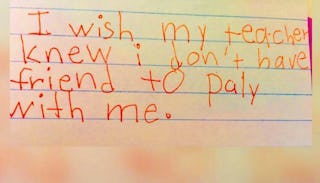 A Colorado teacher who felt she was struggling to understand the reality of her students' lives thought of an assignment this week. Kyle Schwartz had her third grade students complete the following sentence,
I wish my teacher knew…
Here are some of the responses she received…
Schwartz told ABC News, "Ninety-two percent of our students qualify for free and reduced lunch. As a new teacher, I struggled to understand the reality of my students' lives and how to best support them. I just felt like there was something I didn't know about my students."
She shared the images to Twitter with the hashtag, #IWishMyTeacherKnew to inspire other teachers to do the same. Tweets and photos from other teachers began pouring in.
"I care deeply about each and every one of my students and I don't want any of them to have to suffer the consequences of living in poverty, which is my main motivation for teaching." She told ABC News that she hopes her lesson can help connect her students with resources they need.
Such a simple gesture, yet it reminds us about something that all of us forget to do daily; put ourselves in someone else's shoes. Schwartz was able to recognize her students as little human beings trying to navigate their own worlds, instead of just kids she's paid to teach. She gave the students the opportunity to answer anonymously, but most of them wanted to share their stories with the class — to be heard by other students. It's a simple, beautiful gesture that says, Tell me your story. I want to hear you.
Everyone could stand to get that message more.
Related post: 6 Facts People Should Know About Teachers
This article was originally published on