Teacher's Note Forbidding Students From Spoiling 'Avengers: Endgame' Is Everything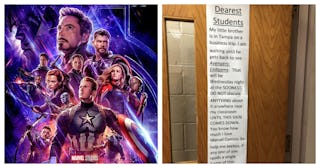 IMDB/Twitter/@kamilious
This teacher's very sincere and firm note about Avengers spoilers is going viral on Twitter
If you didn't know the final film in the Avengers series came out this weekend, you must be living under a rock. Even if you've never seen a Marvel film in your life, you're probably aware of the importance of this final, huge, please-don't-spoil-it movie. One teacher wanted to be crystal clear that his students shouldn't ruin the ending by posting a note clarifying that he hasn't seen it yet, and it's amazing.
The first weekend of Avengers: Endgame has finally come and gone, and though many rushed out to see it on opening weekend, many have not. And since spoilers are the worst, this teacher had a genius idea to make sure no one — and I mean no one — wrecks it for him.
"DEAREST STUDENTS: My little brother is in Tampa on a business trip. I am waiting until he gets back to see Avengers: Endgame.," they wrote on a note taped on their classroom door. "That will be Wednesday night at the SOONEST. DO NOT discuss ANYTHING about it anywhere near my classroom UNTIL THIS SIGN COMES DOWN. You know how much I love Marvel Comics. So help me Jeebus, if any one of you spoils a single frame of this movie for me, I promise I will make you wish that Thanos snapped your narrow a**."
The note was shared via Twitter by one of the teacher's students and it's crystal clear there will be no discussion at all, whatsoever, and there were plenty of capitalizations to indicate the point. Personally, I haven't seen the movie (nor will I) but this is similar to how I'd feel if someone spoiled an episode of the final Game of Thrones season for me. Friendships would be ruined; lives in tatters.
This warning makes so much sense, too, because what else do students do in the classroom while waiting for class to begin on a Monday morning? Discuss the tea from their weekend, that's what. Many people on Twitter shared similar experiences and feelings on Endgame spoilers — isn't it great when the internet collectively agrees on something? LOL.
https://twitter.com/jetpack/status/1121766814629945346
https://twitter.com/jetpack/status/121764012704903169
The teacher's note isn't for nothing. Even the Endgame directors released a letter begging fans who see the film not to spoil the ending for others, saying in part, "This is it. This is the end. The end of an unprecedented narrative mosaic spanning eleven years and eleven franchises," thanking fans for their devotion, support, and investment in the films.
"Please know that the two of us, along with everyone involved in Endgame, have worked tirelessly for the last three years with the sole intention of delivering a surprising and emotionally powerful conclusion to the Infinity Saga. When you see Endgame in the coming weeks, please don't spoil it for others, the same way you wouldn't want it spoiled for you," they said, adding, "Remember, Thanos still demands your silence."
Listen, this note is completely logical and the teacher well within their rights to make sure they can see the film's end whenever the hell they choose. It's no one's business to ruin it for other people. You've officially been warned.