Teacher Creates Adorable Target-Themed Play Space For Her Classroom
by Valerie Williams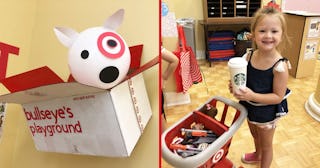 Courtesy of Theresa Yarber/Target
A Nashville preschool teacher turned her dramatic play area into a tiny Target
When my kids were little and I was a stay-at-home mom, I'm pretty sure they got a good deal of their weekly stimulation (and time outside the house) from Target. After all, it's basically the mothership for moms, so we were there a lot. That's why it's pretty fitting that a preschool teacher created a whole learning space in her classroom centered around our home away from home.
Nashville teacher Theresa Yarber decided to center the dramatic play section of her preschool classroom around the big red bullseye, and why not? It's fun and familiar.
Yarber tells Target, "My goal as a teacher is to have the kids say they can't wait to get to school because it's so fun, and I knew this would be a great place to start," Theresa says. "I love Target and the kids love Target."
Honestly, who doesn't love Target?
She even has a little Bullseye overseeing everything.
"I absolutely love it because I can be so creative with it," she says. Yarber looked to Pinterest and got help from her husband and sons in creating the space. She also got items from friends and neighbors to fill it out.
I mean, it has a little Dollar Spot. Could it be more perfect?
Right away, the teacher saw her idea working. "A little girl put her dog in the cart, walked through the dollar bins with her grande latte and I was like, 'Are you doing some shopping?' and she said, 'No, I'm just browsing.' And that's when it really came alive," she said. "Kids, imagination and a couple of everyday things. That's all you need."
Sure, some teachers go fancy and fantastical with their classroom playspaces, but Yarber sees the fun in the everyday things. "It gives them a glimpse into being grown-up; you have to deal with other people, be friendly to the people serving you coffee, you have to share things," she says.
It even has a price scanner. We cannot.
"People have been super excited about the Target space, and I tell them, if you want to create something new just ask yourself—what do your students enjoy?" she says. "Let them be your guide. Target was a great opportunity because that was something everyone was familiar with, and then I just went from there."
As far as advice for fellow teachers? "But really, whatever you choose, just give kids the opportunity to run with it and their imaginations will take off! Bullseye is just a box and a balloon—that's all it takes and they were thrilled with it. You don't have to spend a ton of money or a bunch of stuff. That's the big thing."
This article was originally published on