Teacher Becomes Teen's Foster Parent So He Can Stay On A Kidney Transplant List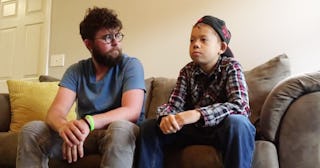 FOX31 Denver
A teen needed a stable home in order to remain on a transplant list, so his teacher took him in
Here's a story that will restore your faith in humanity. Damien, a sick teenager, couldn't stay on the kidney transplant list without a stable home so his teacher decided to take him in. His decision could have a massive, deeply important effect on this 13-year-old's life.
Finn Lanning, a math teacher in Aurora, CO, first met Damien when classes started. "I started this school year like a regular school year and Damien like a regular student," Lanning told FOX31. "One day, he showed up and just said he wasn't going to be back anymore. And when I questioned him about that, he told me that he was going back to live in the hospital."
It turned out that Damien had a kidney disorder that required him to undergo treatment for twelve hours a day. The teen really needed a new kidney but his lack of stable housing made him ineligible. So, Lanning decided to step in.
While Damien was in the hospital, Lanning would come keep him company and catch him up on what was going on in the classroom. "I learned more about his story and what he was facing and what his needs were and why they weren't being met, it just became really hard for me to look the other way," he said.
Lanning decided to take Damien into his own home and amazing progress has already started snowballing.
"A couple months later, Damien is now living with me, going back to school, and was just recently relisted on the kidney transplant list," Lanning said. "Over the last several months, I have taken much time off of work to be trained to care for his special medical and dietary needs, as much of this care occurs in the home."
According to FOX31, Damien has since been bumped to the top of the kidney list and should hopefully have a transplant within the next two weeks.
Unsurprisingly, Lanning is now facing some new, very significant financial burdens. There's transportation costs to doctor appointments, special dietary needs to address, additional time taken off work, and clothing for Damien. The teacher has started a GoFundMe page, asking for some support in this new journey. He set a goal of $30,000 and people came through big time. Lanning has since raised $51,505 and counting, along with an outpouring of messages of support from strangers all across the country.
"Although I have no doubt this will be very challenging, my experience working with this age group makes me uniquely equipped to deal with some of the typical challenges of caring for a pre-teen," Lanning wrote. "I am asking for support to help alleviate the financial stress that will be a part of this transition over the next several months to make sure I am able to provide Damien with a home that will allow him to get healthy and become the incredible world-changing individual he has the potential to be."