Teacher's Viral Post About Getting Lucky Charms From Student Is A Must-Read
by Cassandra Stone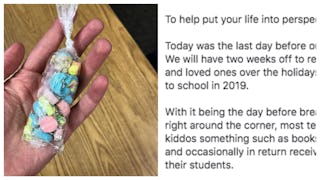 Image via Facebook/Rachel Uretsky-Pratt
Whew this story about Lucky Charms marshmallows will get you right in the gut
In a touching Facebook post, an elementary school teacher says she receives many small gifts this time of year from her students. But it was one small gift — a tiny bag of Lucky Charms marshmallows — that will stay with her, and all of us, through the holiday season.
RELATED: 11 Care Package Ideas For Practical Parents Who Worry
Rachel Uretsky-Pratt's post has been shared over a hundred thousand times because her words and the actions of the student in question offers one heck of a good lesson on perspective, empathy, and kindness.
She says that during the last day of school before winter break, it's customary for her students to bring in little trinkets and treats as presents for teachers.
"Today I received some chocolates, sweet handmade notes, some jewelry, but these Lucky Charm marshmallows stood out to me the most," she writes. She says 100% of the students in her school are on free or reduced lunch programs. They also receive free breakfast every morning during the school week.
One student in particular likely didn't want to feel left out, but didn't have a typical "gift" for Uretsky-Pratt. "This kiddo wanted to get my something so badly, but had nothing to give."
It appears she carefully opened up her plasticware package and hand-picked each Lucky Charms marshmallow from her breakfast cereal for her teacher. "[She] took the time to take every marshmallow out of her cereal to put in a bag—for me."
Uretsky-Pratt tells USA Today that when she was presented with the gift, she accepted the bag of marshmallows the same way she accepted her other presents, and thanked the little girl. Besides, "no one likes Lucky Charms without the marshmallows," she says.
Presumably, it must have felt pretty crummy knowing other kids had gifts for the teacher and she didn't. But that didn't stop this little girl from using her imagination and desire to give to offer what she could. This story is a lesson for all of us on empathy for others and how a little bit of kindness goes an incredibly long way.
"Be grateful for what you have, and what others give you," Uretsky-Pratt concludes her post. "It all truly comes from the deepest parts of their hearts."
This article was originally published on