Teacher Who Went Viral For 2018 Video Of Students Hugging Dies Of COVID
by Erica Gerald Mason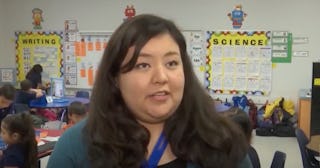 YouTube
A video Zelene Blancas posted to Twitter of her 1st grade students hugging each other gained national attention
No one ever said the pandemic was fair. After a holiday season that saw millions gather in opposition of public health officials' warnings of a third wave of infection, followed by a stalled COVID-19 relief package, 2021 begins with sad news from El Paso. The Texas elementary school teacher whose video of her students hugging each went viral in 2018 has died after a two-month battle with COVID-19. Her first graders had a choice of "good morning or goodbye" hugs, handshakes, high-fives or fist bumps in a video she posted on Twitter.
According to a GoFundMe fundraising campaign her family set up to help pay for Blancas' medical costs, she was hospitalized for nine weeks after contracting COVID-19. She died on Monday, school administration told ABC News. She was 35. "She always made an effort to share kindness, whether it was with a message or a note or just reaching out to her colleagues," Principal Cristina Sanchez-Chavira told the news outlet. "Just a very, very loving person."
The school switched to remote learning in March last year. Blancas made care packages that contained masks, pencils and candy and she delivered them to students at the start of the current school year, her principal said.
"She embodied kindness," Sanchez-Chavira said. "That's who she was." Blancas was surprised that it took off, Sanchez-Chavira remembered.
"That small action touched so many lives," the principal said. "The kids felt so comfortable. You could see how loving they were — that came through in her video. And that I attribute to the culture she established in her class, that loving culture."
PinkSocks Life co-founder Nick Adkins, whose foundation aims to spread compassion with pink socks, saw the video, which had been viewed over 22 million times. According to CNN, Adkins said Blancas "lived the ethos of gifting every day," he said.The organization went on to provide the educator pink socks for all 32 students in her class.
Blancas also helped her school after the tragic shooting at an El Paso Walmart in August 2019. She organized an event at the school to get pink socks for every student and staff member, CNN reports. Pinksocks Life raised the money and donated 1,337 pink socks to the school, Adkins wrote.
The two kept in touch, Adkins told ABC News, and he expected to return to her school district this past spring before having to postpone due to the pandemic.
Blancas "was just a bundle of kindness and joy and love," Adkins said.
"We try to celebrate people and organizations that are doing good things," he said. "I'm grateful for the legacy that she's left behind."
Sanchez-Chavira said once she learned of Blancas' passing, the school communicated the news to families of her students, including students from the past two years. The principal said the school is gathering photos of Blancas and letters from her students to present to her family.
Once the school returns to in-person instruction, Sanchez-Chavira said she would like to honor Blancas, such as by creating a "kindness corner" for a "constant reminder of her and her kindness".
This article was originally published on