Teacher Writes Personalized Messages On Each Student's Desk On Testing Day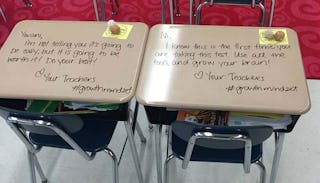 Teacher gives a special message to her students on testing day
A New Jersey teacher thought of a brilliant idea to motivate and inspire her fifth grade students before their state exams: write a personalized message to each of them. But they weren't the usual message — they were written in non-permanent ink on their desks.
When the students arrived to class for testing, this is what they saw:
Little donut holes, a note about taking their time, and a personalized message for each student. Fifth grade teacher Mrs. Langford wrote each message in dry erase marker so the student could clean it off before testing started.
"Remember there is no elevator to success, you must take the stairs. You got this!"
"Learning is your super power! Remember, never stop trying and never stop growing you brain!"
This may seem like a small gesture, but these tests can and are stressing some students out. A third of the psychologists from the 700 schools in New York's public school system agreed that Common Core testing has translated into students feeling more stressed: "the test anxiety is more common at the elementary-school level… students more often showed "internalized" symptoms such as excessive worry and withdrawal rather than demonstrating "externalized" symptoms, such as increased irritability, frustration and acting out."
Reaching out to a student like this and letting them know that they should just relax and do their best probably did more good than this teacher[related_post] even knows. What a great idea, what a great teacher. She did something above and beyond that day to help her students feel better. It's that kind of care that makes a good teacher great.
Woodbury Public Schools shared the images on their Facebook page, and they've been circulating wildly. Maybe they'll inspire more teachers — and parents — to remind their children how special they are.
This article was originally published on