After Student's Suicide Attempt, Teacher Finds A Way To Tell Each Kid They're Special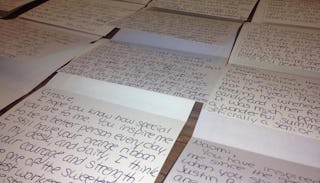 A student's suicide attempt moved this teacher to show her classes how loved they are
Teachers are an incredibly important figures in a child's life, and not just because they teach them everything they need to know about literature, history, or math. Teachers are influencers, and every day they know they have the power to shape kids for the better. That's why one Colorado Springs educator took it upon herself to remind each and every one of her students how special they are after finding out that one of them attempted to commit suicide.
In a post on her Facebook page, Brittni Darras writes that two months ago during parent/teacher conferences, a mom came to explain why her daughter had recently missed a lot of school. Writes Darras, "Her daughter – a friendly, intelligent, beautiful, driven, young woman – not only planned to commit suicide, but was in the act of doing so when the police got a safe to tell report, broke in, and stopped her."
Unbeknownst to her teachers and parents, the girl had deleted her presence on social media and written goodbye letters — as Darras puts it, "She was ready to leave the world." Darras says the story broke her heart, and not knowing how else to help, she asked simply if she could write a letter to the student. "My student got the letter," writes Darras. "Her mom said that her daughter cried, turned to her mom and said, 'How could somebody say such nice things about me? I didn't think anybody would miss me if I was gone.'"
The response touched something in Darras' heart, and since then, she's been in the process of writing similar letters to each of her students. "It made me realize that I was way too close to losing another student to suicide," she explains. "I spent the next 2 months writing cards to every one of my students – over 100 of them – telling each one what is special and unique about them."
In her post, Darras included photos of the hundreds of notes she plans to deliver to the members of her classes, each one in an envelope with the recipient's name and a smiley face. In one that you can partially read in the photo, the teacher wrote, "I hope you know how special you are to me. You inspire me to be a better person every day." Another reads, "I realize you aren't told enough how amazing you are."
[shareable_quote]Suicide is the third leading cause of death for kids ages 10-14.[/shareable_quote]
Darras says she was inspired to write the notes because "suicide is growing to be more and more common," and she certainly isn't wrong about that. According to the CDC, suicide is the third leading cause of death for kids ages 10-14, and the second leading cause for people 15-24. It kills more teens and young adults than cancer, heart disease, AIDS, birth defects, stroke, pneumonia, influenza, and chronic lung disease, combined.
As adults, it's easy to overlook how difficult life can be for a young person. As Darras points out, kids are under so much pressure "to be successful, to fit in, to be the best in their class/sport/etc." Depression and other mental health issues can also be difficult for parents to spot. A note from a teacher might not be enough to cancel out the many things these kids are going through, but it's enough to make them feel valued and important, to know that they're loved no matter what, and it's a good reminder to the rest of us to strive to convey that message to the young people in our lives as well.
"We need to remember that each human being is unique, says Darras, "and that is what makes them special. Instead of trying to change it, we need to embrace it, because together, we can make a difference, and we can save lives."
If you or someone you know is in need, please contact the National Suicide Prevention Lifeline for help: 1-800-273-8255
This article was originally published on