More Teachers Reject In-Person Learning: 'They Miss Their Kids But They Want To Live'
by Erica Gerald Mason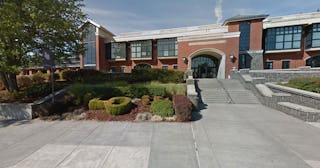 Google Maps
Teachers across the country are worried about returning back to school amidst the coronavirus' deadly third wave.
The pandemic shows no signs of slowing down. After a holiday season where millions visited family and friends outside of their own COVID bubble — despite pleas from public health officials to cancel gatherings — infection numbers across the country continue to surge to record numbers. Schools have been faced with a question: should students resume face-to-face classes before vaccines are readily available? Or should learning be entirely remote? Teachers across the country are speaking out against dangerous reopening strategies amid the pandemic.
In Lake Oswego, Oregon, The Oregonian reports that teachers are frustrated with the district's plan for students to return to the classroom in February and Union President Kelly Fitzsimmons spoke about the teacher's reservations in a press release, calling plans to return to face-to-face learning "callous and dangerous."
"Teachers want to be in the classroom. Teachers miss their kids. But they want to live and not be responsible for killing their families or sickening their students," Fitzsimmons said. "We should wait for the vaccine to be available or at least be making decisions to return based on data."
Some Chicago Public School teachers have voiced concerns about being forced to return to the classroom too. Block Club Chicago reports that the school system has warned that teachers who refuse to return to face to face learning could be fired. CPS Union President Jesse Sharkey said teachers fearing for their safety "have a right to refuse to subject themselves to a potentially dangerous situation."
The school district gave their educators the option to apply for a waiver to work from home. About 2,000 teachers and staffers asked for the exception, yet the district approved only 861 of those requests, with 308 applications still outstanding.
Quentin Washington, a CPS elementary school teacher, notes that the waiver process was problematic because the questions were worded in a way where the applicant would have to be either "really, really sick" or have a very sick person in the family to be approved for a waiver. The district didn't factor teachers who had other concerns, like employees who live in multi-generational housing where they might be caring for a parent or child who is more at-risk from COVID-19.
In Florida, the Broward Teacher's Union filed a suit on behalf of some of its members; the parties in the lawsuit ask the judge to allow them to continue to teach remotely.
"They don't want to not teach their students," union president Ana Fusco, WSVN reports. "They don't want to not return, but they are legitimately afraid that if they return, that they might contract the virus, and they are at the highest risk. They have heart conditions. They have sickle cell. They have cancer."
If teachers could get vaccinated against the virus, their feeling would change, the union president said. "We're hoping that our teachers will get some type of priority for the vaccine," Fusco said. "That could be a game changer for a lot of them: that they know they're vaccinated, they're more protected."
Meanwhile, in Georgia, similar concerns loom. WSB-TV reports 6,000 teachers have signed a petition asking Cobb County Superintendent Chris Ragsdale to let them teach from home. The news outlet spoke with Connie Jackson with the Cobb County Association of Educators about the contentious issue.
"You've got teachers who are literally on the verge of a nervous breakdown," Jackson said. "We already had one teacher pass away. We have several teachers and bus drivers in the hospital, some in critical care, and it's just not acceptable."
In a private Facebook group for Cobb County schools, teachers and staff are anonymously sharing their fears (reprinted here with permission) about their safety concerns.
One group member posted, "I teach high school and I fear I am going to bring this home to my family…I will say, I've already had 1 of my in person students say they are going to get tested, a student who left my room to go to the nurse, and several with visible symptoms. We cannot do anything about those students. My classes are huge and social distancing is not possible."
Another teacher explained how some sick students are still coming to school while they await test results and even when teachers are exposed to COVID positive studios they are not allowed to self-isolate at home.
One teacher put it plainly. "WE ARE NOT YOUR BABYSITTERS," the post read.
Another Cobb county teacher admitted that once their paid medical leave runs out, they are resigning.
Back in Oregon, the union president offers a solution. "Teacher after teacher has said they are afraid. They are afraid for their students, their families and themselves. They are especially bewildered why the district is not waiting for vaccines to become available or even basing the decision to return on county health metrics."
Vaccinate teachers. Keep them safe. End of story.