Teachers Use #ArmMeWith To Tell Trump What They Really Need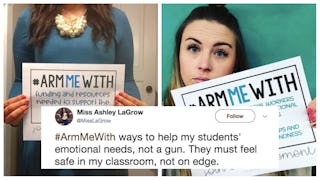 Image via Twitter/Instagram
Teachers everywhere are sharing far better solutions than guns in classrooms
In response to the recent mass shooting at Marjory Stoneman Douglas High School, Trump suggested teachers should receive gun training in order to be armed in their classrooms.
Because our teachers thankfully possess the capability for logic and reason where our president does not, they've started the #ArmMeWith movement in response.
Teachers are taking to social media to say HELL TO THE NO when it comes to being the kind of armed, dystopian educators the GOP seems to want them to be. Instead of arming them with guns and firearm training, they're asking for something else: resources.
These teachers know that adding even more guns to educational environments isn't the answer here. So they're spreading awareness about what they actually need: school supplies, mental health resources, better funding, curriculum improvements, and stronger gun control legislation.
According to Buzzfeed, the two teachers who began the movement, Brittany Wheaton, and Olivia Bertels, met via Instagram. In the wake of the Parkland shooting, they began asking teachers to share their personal thoughts on how they can promote effective classroom safety without compromising the education of their students.
Teachers everywhere joined the #ArmMeWith movement on Instagram and Twitter — and we need to listen to what they have to say.
Many educators also shared their thoughts on why arming them with guns is probably not the most effective solution to our nationwide mass shooting problem.
Beyond classroom resources and funding requests, some teachers had a message for our country's legislators.
"Since teachers are the individuals in the classroom when it happens, I like to think we know what's best for our students," Wheaton told Buzzfeed. "If you're an educator, you know that [more guns] is not a solution to stopping the violence that's happening in our schools."
This article was originally published on