Teachers Suspended After Mocking Students Participating In 'Day Without Immigrants' Strike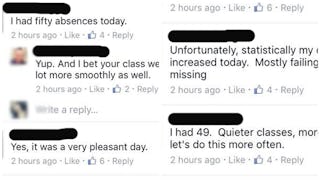 The teachers have since deleted their Facebook comments
Thursday's Day Without Immigrants strike saw immigrant-run businesses across the country close for business in protest of President Trump's harsh anti-immigration policies. When some students at a California high school participated in the protests, some of their teachers didn't appreciate it, and said so on social media.
Five teachers and a guidance counselor at Rubidoux High School in Riverside, California went on Facebook and made negative statements about the kids who participated. A former student, Guadalupe Lopez, took screenshots of the original post (which has since been removed) and shared them on her own Facebook page.
One teacher claimed the students were using the strike "as an excuse to be lazy and/or get drunk," and others joined his thread to rejoice about how much more enjoyable their day was with fewer "failing students," a cleaner cafeteria, and less traffic.
"Troublemakers were gone," Agriculture teacher Rhonda Fuller wrote in a comment. "Fantastic day!"
Fuller, and the teacher who posted the original thread, are presumably among the six unidentified staff members that Superintendent Elliott Duchon of the Jurupa Unified School District told The Huffington Post have been put on administrative leave. Other employees of the school who participated in Greer's thread were guidance counselor Patricia Crawford, and science teachers Allen Umbarger and Charles Baugh.
"My heart is so broken," former Rubidoux High School student Guadalupe Lopez wrote on Facebook Thursday. "I loved these teachers and this is how they feel about us and our people?"
Greer eventually issued an apology: "While I stand by my assertion that skipping school is no way to demonstrate one's value to society, I do apologize for the harsh tone and hurtful structure of the previous message."
Superintendent Duchon met with Principal Jose Araux to discuss the incident, which he feels is isolated and not a true reflection of how most of the staff at the school feel. He also appreciated the positive way the students were handling it.
"Today, our goal is to provide comfort for the students … and the staff and the parents of the community," he told Huffington Post.
The Trump administration's crackdown on immigration is stirring up controversy across the country, and the people affected aren't taking it lying down, and that includes people of the younger generation who are just as concerned about the future of our country, and their families, as the rest of us.
You'd think that teachers would be excited to see their students exercising their right to protest and stand up for something they believe in, especially since it's something that affects many of them personally. In fact, that entire point of the "Day Without Immigrants" strike was to drive home the point that this country is made up of immigrants, and when they are victimized, it affects all of us personally.
Unfortunately for the students at Rubidoux High School, they learned, in dispiriting fashion, that not everyone feels those effects negatively.