Two Major Teachers Unions Call For End To 'Terrifying' Active Shooter Drills
by Cassandra Stone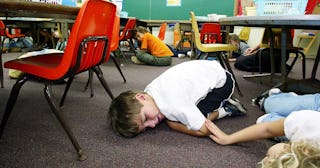 Phil Mislinski/Getty
The nation's two largest teachers unions want schools to revise or eliminate active shooter drills
The two largest teachers unions in the U.S. are calling for the end of active shooter drills as we know them presently. The American Federation of Teachers and the National Education Association are teaming up with the Everytown for Gun Safety Support Fund to call for an end to spontaneous drills and drills that simulate gun violence.
Both AFT and NEA say that the drills can harm the mental health and wellbeing of students and that there are better ways to prepare for the possibility of a school shooting.
"Everywhere I travel, I hear from parents and educators about active shooter drills terrifying students, leaving them unable to concentrate in the classroom and unable to sleep at night," said Lily Eskelsen Garcia, president of the National Education Association, tells the Associated Press. "So traumatizing students as we work to keep students safe from gun violence is not the answer. That is why if schools are going to do drills, they need to take steps to ensure the drills do more good than harm."
Currently, about 95% of American public schools conduct some form of regular active shooter safety drill, in the form of a "lockdown" or "active threat" drill, according to the National Center for Education Statistics.
The call for revising and/or eliminating these drills came via a whitepaper released by Everytown for Gun Safety earlier this week. The groups do not recommend active shooter training for students, but if the drills must occur, they shouldn't be realistically simulated and should offer students plenty of warning to prepare for such a drill.
The group also says these drills should be performed with age-appropriateness and sensitivity toward children with special needs or those who have experienced trauma. Shannon Watts, the founder of Moms Demand Action for Gun Safety in America (part of Everytown), says these drills are responsible for varying levels of distress in students.
"These drills cause trauma, whether it's anxiety or depression, sleeplessness, worsening school performance in kids," she tells NPR. "When we have a fire drill in a school, we don't set a fire in the hallway."
Each school seems to interpret these types of drills differently — with some taking a more calm, conservative approach to the potential dangers of an active shooter situation, while others have teachers being shot with plastic bullet guns in an over-the-top type of simulation.
In the whitepaper, Dr. Laurel Williams, chief of psychiatry at Texas Children's Hospital in Houston, warns about the anxiety active shooter drills can induce: "It's psychologically distressing for a young child to practice active shooters coming into your area. It's not clear to them that the drill is not real. The younger the child, the less likely they are to understand that an act of violence is not occurring during a drill."
Watts says there are steps that schools can take to prevent gun violence, and they don't necessarily start with active shooter drills. Moms Demand Action wants schools to focus instead on prevention through threat assessment and expanded mental health services, and educate students about safe, secure gun storage at home.
"Schools are a very important place to talk about gun violence prevention," Watts tells NPR, "because about 4.6 million children in this country have easy access to guns that are not secure, meaning they're loaded, they're unlocked, they're easily accessible."