Ted Cruz Skips Off To Cancun While Millions Of Texans Continue To Suffer
by Cassandra Stone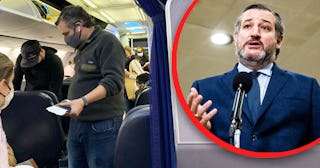 David Shuster/Twitter and Samuel Corum/Getty
Photos circulating online show Ted Cruz boarding a plane to head out on a tropical vacation while his constituents freeze to death
Ted Cruz, Texas senator and violent insurrection henchman, is proving that if the bar is to the ground, he can surely sink lower. As Texans freeze to death after an unprecedented winter storm surged through the state leaving millions without electricity or shelter, Senator Cruz decided there's no better time to skip town and head to a resort in Cancun, Mexico, with his family. Because why do your job when you can leave the people who voted for you behind to suffer astronomically?
Photos of Cruz began circulating online, showing the disgraced senator in line at a Texas airport, preparing to board a flight to Cancun with his family.
"Just confirmed @SenTedCruz and his family flew to Cancun tonight for a few days at a resort they've visited before. Cruz seems to believe there isn't much for him to do in Texas for the millions of fellow Texans who remain without electricity/water and are literally freezing," former MSNBC anchor David Shuster tweeted shortly after midnight.
Cruz's Senate office has not responded to multiple media inquiries concerning his whereabouts. Hmmm, wonder why! The best-case scenario here is that Ted Cruz is missing.
The worst-case scenario is that this utter ghoul and total loser — who unsuccessfully ran for president in 2016, refused to defend his own wife after Donald Trump repeatedly called her ugly, uses his official Twitter account to browse for porn, and irrefutably assisted in the violent insurrection that almost cost his colleagues their lives on Jan. 6 — is sending a giant middle finger to the people he represents while they're suffering a catastrophic crisis and literally freezing to death in homes that are flooded and falling apart.
There are still 2.7 million Texas households without heat and running water as of Thursday. The winter storm caused freezing temperatures that completely combusted the state's power grid. There aren't enough warming centers or hotel rooms to accommodate vulnerable communities all over the state, and many roads are still impassable for workers and rescue efforts.
Hell, even Joel Osteen, another Texas P.O.S., opened up Lakewood Church to shelter and feed those in need because he, unlike Cruz, recognized he didn't want to risk another public relations crisis after the Hurricane Harvey shitshow in 2017.
In an interview, Beto O'Rourke, who lost his 2018 bid to replace Cruz as a senator in Texas, condemned Cruz during an interview this morning for his role in the attack on the Capitol last month and for high-tailing it to warm, sunny Cancun instead of doing anything close to resembling his actual job, "when people are literally freezing to death in the state that he's elected to represent and serve."
Unfortunately for the state of Texas (and all of us, really), Ted Cruz isn't up for re-election until 2024. It's too bad this treasonous, sentient pile of dogshit wasn't slapped on the no-fly list like all the other Trump-loving terrorists.