Leaked Texts Show Ted Cruz's Wife Inviting Friends To Mexico To Escape Freeze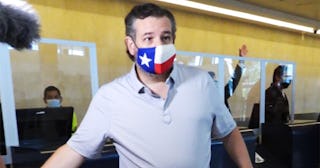 MEGA/GC Images/Getty
Oh, look, proof that Ted Cruz lied about his trip to Cancun while Texans suffered in a deadly winter storm
At this point, we don't expect much from Ted Cruz. He's the United States Senator who thinks that pregnancy isn't life-threatening for women, who said that restaurant workers are too lazy to deserve unemployment amid a global pandemic, and who helped embolden insurrectionists to storm the U.S. Capitol, resulting in multiple people's deaths. And now, as Texas is gripped by deadly winter storms, he tried to flee to Cancun — and then lied about it, leaked texts show.
Earlier this week, photos started circulating online that showed Cruz at the Houston airport and onboard a flight to the Mexican resort town, while millions of Texans are without power, heat, or drinkable water and temperatures across the state hover below freezing. Since those photos of Cruz leaving his constituents to die while he skipped off for a tropical vacay were decidedly not a good look, Cruz told reporters that he just made a quick trip down there to drop off his kids for their vacation, and then hastily returned to Texas to help out with disaster relief efforts. Except now, leaked texts show that that's not true. The Senator and his family definitely planned on partying it up in Cancun while Texans suffered and died.
The texts were sent from Cruz's wife, Heidi, to their neighbors, and they paint an entirely different picture of the family's tropical trip. In her messages, according to the New York Times, Heidi told friends that her family's house was "FREEZING," and invited them to come to Cancun through Monday and stay at the Ritz-Carlton with her family. She told them the price of rooms ($309 a night), and mentioned that the hotel has great security (because when your constituents are literally freezing to death, you have to make sure your tropical resort is safe).
In a statement, Cruz attempted to apologize? I guess? "I started having second thoughts almost the moment I sat down on the plane, because on the one hand, all of us who are parents have a responsibility to take care of our kids, take care of our family," he said to reporters. "That's something Texans have been doing across the state." In a previous statement, the senator claimed that he headed further south because his kids wanted to take a trip and he wanted to be a "good dad."
"But I also have a responsibility that I take very seriously for the state of Texas and frankly, leaving when so many Texans were hurting didn't feel right and so I changed my return flight and flew back on the first available flight I could take," Cruz said.
The average temperature in Cancun this week was in the 80s. Meanwhile, freezing Texans have been scavenging fallen trees to burn for heat so they don't die.
Gilberto Hinojosa, the Texas Democratic Party chairman, may have put it best: "This is about as callous as any politician can get. He's a politician that really has never cared much about anybody but himself."
Ted Cruz will almost definitely run for president again in 2024. When he does, everyone please remember this. During a time of life-threatening crisis, his only impulse is to save himself — and take a nice family vacay while he's at it.