15+ Ted Talks For Kids To Inspire, Challenge, And Excite Them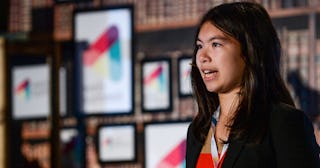 Sportsfile/Getty Images
TED Talks have the potential to motivate, inform, move, and dare us to be brave. You can provide children with that same opportunity. We identified thirteen different TED Talks for kids covering topics such as turning trash into treasure, how seemingly small actions can have huge impacts, and the power of kindness.
Attention spans in children generally last around two to three minutes per year of age. So a child who is six may have an attention span of 12 to 18 minutes. However, personal interest and familiarity with the topic and biological, mental, and physiological factors can affect that range. When it comes to the subject matter, some of these TED Talks might suit your tween while the others work well for your youngest. With that in mind, we picked TED talks for kids that are interesting, relevant, and digestible.
15+ Powerful TED Talks for Kids
1. "What Adults Can Learn From Kids"
"Kids don't think about limitations. They just think about good ideas."
Twelve-year-old Adora Svitak talks like an adult but thinks like a kid. She discusses the pitfalls of telling kids to stop being "childish." She also describes a balanced world where students learn from teachers and teachers learn from students.
2. "Try Something New for 30 Days"
"…instead of the months flying by, forgotten, the time was much more memorable."
Sometimes big dreams can seem overwhelming and a hurdle insurmountable — but little benchmarks, goals, and changes are the building blocks to achieving them. Matt Cutts shows us a clever trick to make lasting changes in our lives.
3. "A Life Lesson From a Volunteer Firefighter"
"Not every day is going to offer us a chance to save somebody's life, but every day offers us an opportunity to affect one. So get in the game. Save the shoes."
Children and adults alike can benefit from this short and moving talk by volunteer firefighter Mark Bezos. (That last name sounds familiar? Jeff Bezos is Mark's brother). It shows us that even small actions have a big impact.
4. "Teach Girls Bravery, Not Perfection"
"I need each of you to tell every young woman you know — your sister, your niece, your employee, your colleague — to be comfortable with imperfection."
Reshma Saujani realized she hadn't done anything brave until she ran for Congress and lost. This talk highlights how girls can build incredible things when they strive to be brave. Progress, not perfection.
5. "Science Is for Everyone, Kids Included"
"This project was really exciting for me, because it brought the process of discovery to life, and it showed me that anyone, and I mean anyone, has the potential to discover something new and that a small question can lead to a big discovery."
Neuroscientist Beau Lotto characterizes science as "play" and experiments as "games." He believes kids should be able to participate in the process of discovery. Twelve-year-old Amy O'Toole and 25 of her classmates published the first peer-reviewed article by schoolchildren about the Blackawton bees project.
6. "10 Ways to Have a Better Conversation"
"Is there any 21st-century skill more important than being able to sustain coherent, confident conversation?"
True listening needs patience, energy, and focus. Radio host Celeste Headlee shares 10 fantastic and useful tips for having better conversations.
7. "How Boredom Can Lead to Your Most Brilliant Ideas"
"Some personal data and some neuroscience gave us permission to be offline a little bit more, and a little bit of boredom gave us some clarity and helped some of us set some goals."
When Manoush Zomorodi learned how our brains react positively to boredom — and that our addiction to technology means we rarely experience boredom — she decided to do an experiment called "Bored and Brilliant Challenge." She advises everyone to take time to "space out." This TED Talk is pretty powerful for adults and children alike.
8. "Grit: The Power of Passion and Perseverance"
"Grit is sticking with your future, day in, day out, not just for the week, not just for the month, but for years, and working really hard to make that future a reality. Grit is living life like it's a marathon, not a sprint."
Former educator turned psychologist and researcher Angela Lee Duckworth defines and demonstrates the true power of "grit."
9. "Hands-On Science With Squishy Circuits"
"We don't usually think of our kitchen as an electrical engineering lab or little kids as circuit designers, but maybe we should."
In this quick demo, AnnMarie Thomas shows us how to make two different kinds of play-dough and how to use them to create circuits. Hopefully, this TED Talk inspires some experimenting in your household.
10. "The Danger of Silence"
"Read critically. Write consciously. Speak clearly. Tell your truth."
In this powerful and poetic talk, teacher Clint Smith explains the pain that silence can cause and how important it is to "tell your truth." Only by speaking out will we achieve a better society. This TED Talk might stir up some feelings for your child, so check in with them after you watch it.
11. "How One Teenager Unearthed Baseball's Untold History"
"I've worked on about a dozen pensions, and I've tracked down over one hundred Negro League ballplayers, constantly finding new ballplayers getting them in touch with former teammates. Bringing baseball back into these players' lives, and bringing these guys back into the game."
Teenager Cam Perron loves baseball. He mailed letters and his baseball cards to players asking for autographs. This eventually led him to connect with the unrecognized history of the Negro Leagues. Cam made it his mission to make sure they got the appreciation they deserved and reconnection to baseball.
12. "Playing with Good Garbage (From Bags to Riches)"
"In my opinion, the most important step in any project, movement, or organization is the execution. Because an idea that is not executed is the equivalent of no idea at all."
Seventeen-year-old Akbar Khan grew up playing with what he called "good garbage." At 15, he noticed that the many bags people receive at conferences often became trash. He set out to creatively convert the trash into treasure. He is now the head of his own non-profit organization working on this project and helping change the world one bag at a time.
13. "Love Letters to Strangers"
"The mere fact that somebody would even just sit down, pull out a piece of paper, and think about someone the whole way through — with an intention that is so much harder to unearth when the browser is up, and the iPhone is pinging, and we've got six conversations rolling in at once — that is an art form that does not fall down to the Goliath of "get faster," no matter how many social networks we might join."
Hannah Brencher and her mother wrote letters to one another instead of using texts or email. When Hannah fell into a deep depression after college, she started leaving love letters all over New York City for others to find. This led to her launching The World Needs More Love Letters, which gets handwritten letters to strangers — by strangers — to those who need it.
14. "What Do You Want to Be Now"
"I believe age is just a number. I believe any child is capable of great actions which can touch the lives of others regardless of his or her own age. Next time, you talk to a child talk about the present. The future will take care of itself".
Ishita Katyal was just 10 years old when she delivered a speech called, "What do you want to be now," at a TEDx Youth Conference in New York in 2013. She's proof age means nothing when it comes to wisdom. Katyal stressed one is never too little to impact the world. Katyal is from Pune Maharashtra and was the youngest Indian to take part in the conference.
15. "Underwater Astonishments"
"There's a fish with glowing eyes, pulsating eyes. Some of the colors are designed to hypnotize, these lovely patterns. And then this last one, one of my favorites, this pinwheel design. Just absolutely amazing, every single dive."
Next to space, the deep depths of the ocean is an interesting place to explore, especially for children. In addition to his speech, David Gallo also plays interesting videos of sea creatures like cuttlefish, octopus, and neon-colored fish. If your child wasn't excited about the sea before, they will be after listening to Gallo.
16. "A Woman's Cry Against Child Marriage"
"I'll begin today by sharing a poem written by my friend from Malawi, Eileen Piri. Eileen is only 13 years old, but when we were going through the collection of poetry that we wrote, I found her poem so interesting, so motivating. So I'll read it to you. She entitled her poem 'I'll Marry When I Want.'"
One of the best parts of Ted Talks is the opportunity for young people to talk about the things that are important to them. Memory Banda does just that. After taking a stand against child marriage in her community, in addition to delivering Ted Talks, Banda is also an activist for women's rights. It's a bit of a heavy topic, but important subject preteens should be aware of.
17. "What Growth Mindset Means for Kids"
"Who slammed the door? I did. Rebecca — a third-grader from SIS. I was mad at my mom."
Rebecca's talk isn't about saving the world or making her own business. It's about something many kids can relate to — growth. This nine-year-old explains her journey to joining the Student Council in her elementary school. She talks about her anger and frustrations along her journey and how she succeeded in her own right.
This article was originally published on