This Teen Who Asked Herself To Prom Is Our New Hero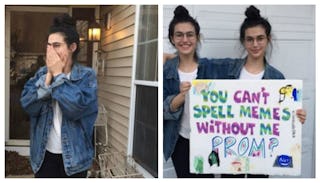 Images via Twitter/Lily Bilgrey
Who says you need a date to get asked to prom?
Teens come up with some amazing ways to ask each other to prom, but this high school senior who asked herself to prom wins best promposal of 2017, hands down.
Senior Lily Bilgrey explains how the idea to ask herself to prom came to be. "I go to a really small private school and we don't have a prom," she tells Scary Mommy. "I really wanted to go to my district high school's prom which is the the school most of my friends go to. I was upset to find out ticket sales had closed for prom."
When no one stepped up to ask her, she decided to take matters into her own hands. "It was then I decided to prompose to myself because, even though I wasn't invited to a prom, didn't mean I wanted to miss out on the promposal experience! "
With her mom on camera duty and the help of some photo editing magic, Bilgrey staged her very own promposal. She shared the photos on Instagram and Twitter.
Bilgrey says while she enjoys promposals, she thinks it's important to remember their ultimate purpose isn't to see who can be the most over-the-top. "I think some of them are super fun and creative but there's a part of me that feels bad for those who don't get asked in an elaborate way," she explains. "If you want to ask someone, do it because you want to have a good time with that person, not because you want to have the most elaborate promposal."
The photos grabbed the attention of popular Instagram account, @the.promposals where they gained plenty of views and comments. Hopefully Bilgrey's photos are encouraging other girls to stop viewing a date as a requirement to attend the prom. Whether or not you have a date to prom doesn't matter. What's important is having fun, and finding comfortable shoes so you can dance with your friends all night without getting blisters. Trust us.
So far, no one's come forward yet to ask Bilgrey to be their prom date (perhaps they're intimidated by her obvious awesomeness). But she's not concerned with finding a special someone. "I unfortunately have not been asked yet but honestly, if my school had a prom, I probably would just go with some girlfriends," she says. YES, GIRL.
Regardless of whether or not she gets to go to prom this year (though we seriously hope she does), it's obvious that Bilgrey knows what the night is all about, and it's not romance. "I think there's a lot of pressure on girls to find the perfect date and get asked in the perfect way but prom isn't about dates or promposals, it's about having a great time with friends!"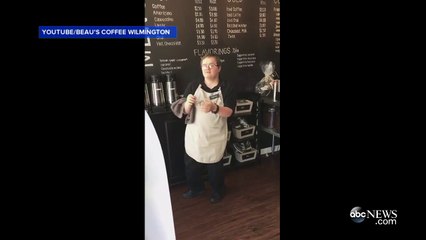 This article was originally published on