This Teen Worked 3 Jobs So He Could Afford A Valentine Flower For Every Girl At School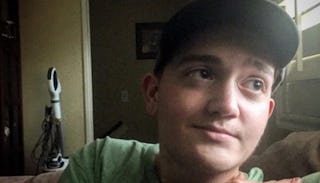 Image via Facebook
A high school senior spent $450 of his own money to surprise every girl at his school with a flower on Valentine's Day.
Valentine's Day can be a tricky holiday if you're not part of a couple. Add being a teenager to that equation, and the potential for sadness and hurt feelings is very high. One high school senior couldn't stand to see the girls at his school feeling left out and decided to do something about it. He bought a flower for every single one of the 834 girls at his school and handed them out as Valentine's Day gifts. Talk about a sweetheart of a kid.
The boy behind this kind gesture is Hayden Godfrey, a 17-year-old senior at Sky View High School in Smithfield, Utah. He told ABC News that his idea sprouted in middle school, where his mom says it made him feel awful that not every girl got something on Valentine's Day. "That broke his heart on Valentine's Day" adding that her son is a "sensitive soul" and wanted every girl to feel happy on the romantic holiday.
To the end, Godfrey worked at three different jobs over the course of 18 months — washing dishes at a Mexican restaurant, working as a McDonald's cook and bagging groceries — to ensure he'd be able to afford the cost of nearly 900 flowers. He saved up a total of $450 and purchased the blooms through an online wholesaler.
His big idea didn't spring out of nowhere. Ever since he was 14, Hayden had been handing out flowers to dozens of friends until he decided he wanted to give one to every girl at his school. He placed the order three weeks in advance and received the help of several friends in cutting the stems to prepare the carnations. He let the flowers bloom for a day and then brought them to school to hand out.
With the cooperation of the school's administration and the help of volunteers, the flowers were given to all 834 female students this past Thursday. Even Godfrey's girlfriend Lilyan Sharp was supportive of her boyfriend's effort to make every girl at school feel special for the upcoming holiday. The teen told ABC News, "I, myself, spent a lot of Valentine's Days not receiving anything. I know how it feels."
This is undeniably sweet. Remembering life as a teenage girl, you may recall the exquisite pain of feeling lonely or unloved, especially on holidays like Valentine's Day. I can remember in high school seeing girls upset because they didn't receive a gift and when they saw their peers with chocolates and flowers, those feelings of sadness were amplified. High school can be a difficult time with emotions running high and the feeling of being left out was one of the worst to grapple with.
For a teenage boy to notice the potential for hurt and to want so deeply for every girl at his school to feel special is a truly incredible thing. Of course, plenty of teen boys are sensitive to the feelings of their female peers, but this is above and beyond. For him to spend that long planning this sweet surprise and to work that hard earning his own money to make it happen is beyond heart-warming.
Of the reaction of his classmates, Godfrey's girlfriend says every one of them left school that day with a "giant smile on their face." For his part, Hayden says, "I think it's something I'll remember for the rest of my life."
And we think his female classmates will remember it too.
This article was originally published on