14-Year-Old Stabs Classmate After She Refuses To Go On Date With Him
by Jerriann Sullivan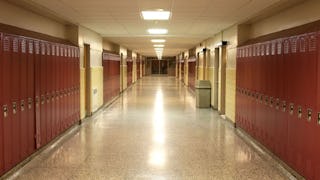 Image via surpasspro / Getty Images
Teen boy stabbed girl who wouldn't date him on first day of school
A 14-year-old boy from Oklahoma stabbed a female classmate of the same age because she didn't want to date him, according to the Luther Police Department. The violent act took place earlier this month on the first day of school at Luther High School.
"You just hear screaming," witness Jonathan Baumgartner told KOCO. "You see this young male on top of another young woman; she's just, you can't even describe it, she's in pain." The boy allegedly stabbed the girl he liked 9 to 11 times, police said. The alleged attacker had attempted to start a relationship with the girl, but she told him that she just wanted to be friends, according to Luther police Chief David Randall.
"There was one point where he approached her in reference… to try to have some type of relationship, to which she said she wasn't interested in it," Randall told NewsOK. The kids remained friends, but the boy had a hard time accepting no. Police said he continued to pursue a relationship and would slip notes into the girl's locker.
The girl told police that she thought she and the boy were still friends and had no idea that he had any problems with her. "She said … she liked him as a friend, not anything more and that they remained friends," Randall said. "She had no idea that he was holding any type of ill will towards her, so she was totally shocked that he would do this to her."
The attack happened in the school's auditorium in front of students, faculty, and staff. The survivor told police she saw the boy when she first entered the auditorium but that he was originally sitting in a different spot than her. Police said she didn't notice him move to a seat behind her. The teen was allegedly silent during the attack. Investigators said he stood up and just started stabbing the girl. "The thing that concerned me most was his nonchalant attitude about what transpired," Randall told NBC News. "No remorse whatsoever."
Eventually, teachers and staff were able to pull the boy off of the girl and hold him until police arrived. The school doesn't have metal detectors or a safety resource officer on campus. Despite being stabbed at least nine times, the student is recovering and has already been released from the hospital. The alleged attacker, who asked for a lawyer instead of speaking with investigators, remains in a juvenile detention center with bail set at $50,000. The Oklahoma County District Attorney's Office will decide how to charge the boy.
Even though the #MeToo movement has highlighted the everyday struggles women face from men who don't understand that no means no, we still have a long way to go before girls and women will feel safe around men they've previously rejected. This case illustrates how much work is still left to do — and that girls owe boys absolutely nothing.
This article was originally published on