Teen Boys 'Rated' Their Female Classmates, And The Girls SHUT. IT. DOWN.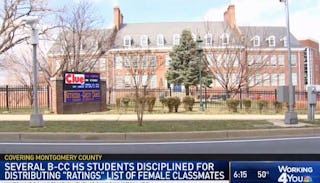 Image via NBC News 4
A group of teen boys rated their female classmates and those girls fiercely fought back
If you ever experienced the horrendous feeling of being ranked by a group of boys back in middle or high school, this story is for you. Some teen boys at Bethesda-Chevy Chase High School rated their female classmates by attractiveness and their female classmates fought back hard. Prepare to feel so, so many vindicated feelings.
The list, created by an 18-year-old male student but contributed to by other male students, ranked 18 young women at the school on their looks from a scale of 5.5 to 9.4, according to a report from The Washington Post. The women who spoke to the Post said they felt degraded and objectified by their peers.
"Knowing that my closest friends were talking to me and hanging out with me but under that, silently numbering me, it definitely felt like a betrayal," Lee Schwartz, one of the teens on the list, said. "I was their friend, but I guess also a number." The young women decided to take collective action. Dozens of female students reported the list to school officials and asked that their male classmates face consequences.
"It was the last straw, for us girls, of this 'boys will be boys' culture," Yasmin Behbehani said. "We're the generation that is going to make a change."
In response to the complaint, the school's administration gave one male student in-school detention for one day. That wasn't enough for these women. Around forty of them, all seniors, filed into the assistant principal's office and demanded that their learning environment be free of "objectification and misogyny." Are you currently cheering very, very loudly from behind your computer? Me too. Big time.
The school ended up holding a meeting with around 80 students. It lasted two and half hours and gave the young women an opportunity to speak directly to their male classmates about the hurt the list caused them. They also broke down the sexual harassment and double standards they experience on a daily basis.
The creator of the list, who spoke on the condition of anonymity, told The Washington Post that the experience was "quite intense." He ended up taking responsibility for his actions.
"When you have a culture where it's just normal to talk about that, I guess making a list about it doesn't seem like such a terrible thing to do, because you're just used to discussing it," he said. "I recognize that I'm in a position in this world generally where I have privilege. I'm a white guy at a very rich high school. It's easy for me to lose sight of the consequences of my actions and kind of feel like I'm above something."
Wow. Not only did these teens stand up for themselves, stand up to their school, and stand up to their classmates BUT they actually forced some young men to take a good, hard look at their privilege. Sending one million snaps to the young women at Bethesda-Chevy Chase High School. Hopefully, this story will inspire even more young ladies to fight back fiercely against misogyny at their own schools — not that they should even have to.