Teen Boys Wear Dresses To School To Protest Unfair Dress Code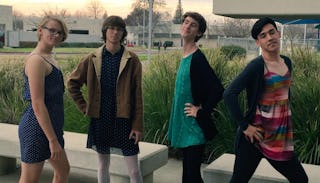 These high school boys wore dresses to school to protest a ridiculous and outdated dress code.
The times, they are a-changing, and with that comes differing ideas about what constitutes appropriate school attire. Like a lot of schools, Buchanan High School in Clovis, California, has had the same dress code in place for decades, but both students and their parents have gotten fed up with the outdated standards. So, after the school voted to keep its old dress code in place, the students protested the best way they knew how: by violating the dress code as much as they possibly could.
Per Buchanan's policies, boys are not allowed to have long hair or wear earrings — a guideline that sticks out in a time where long, tousled locks and gender fluidity are the norm among young people. Last week, the school board held a vote to decide if the dress code should change, but decided to uphold the original rules in a 4-3 vote. The following day, students protested by having the boys show up to class in dresses, while the girls wore pants and shirts that said, "Dress code sucks."
Senior Emma Sledd told The Fresno Bee they planned the protest because they wanted to show that dress and hairstyle have nothing to do with a person's sex. "The reason we switched gender norms for the day was to make the statement that what we wear does not define us as students," she said. "Our district's dress code should not favor or discriminate any gender. We believe everyone should be able to express themselves equally. A boy with long hair is no less of a hard worker than a girl with long hair."
As Buzzfeed points out, the school's dress code does actually violate California law, under which gender expression is a protected category. The American Civil Liberties Union is even reportedly weighing whether a lawsuit would be a viable course of action for students. An online petition asking the school board to approve a gender neutral dress code has garnered almost 4,000 signatures, and students say they have no intention of dropping the issue until they're voices have been heard.
You have to admire the dedication of these students, as well as their ingenuity in coming up with creative ways to protest the board's decision. As so often happens, the school is trying to enforce outdated gender norms here, and it's encouraging to see students not only standing up for their beliefs, but also doing it in a way that is peaceful and respectful while still proving an important point.
Dress codes and the kids who violate them are in the news constantly, and it seems like such an absurd disruption to a child's education. How students style their hair is meaningless compared to what they're supposed to be doing and learning in school, and in an effort to make everyone look "presentable" and "eliminate distractions," these schools are actually wasting a bunch of time and energy policing things that just aren't worth policing.
So, a boy has long hair — get the fuck over it, America. It's beyond time we stopped interrupting kids' school days to fret over the length of their shorts and whether or not they have piercings, and instead start worrying whether or not they're leaving our high schools armed with the things they need to know to be successful humans. In this case, it definitely looks like the administrators could learn a few things from these brilliant and progressive kids.
This article was originally published on