Teen Takes Senator To School Over His Decision To Defund Planned Parenthood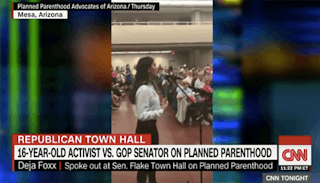 Teen schools senator on what defunding Planned Parenthood looks like for those who rely on its services
If we ever needed more of a reason to be hopeful for the future, one Arizona teen is giving us just that. Deja Foxx decided to get in on the women's health debate over the weekend in a big way. She took on a senator at his town hall meeting to challenge him on defunding legislation and what it means to be privileged in America.
Last week, Donald Trump signed an order that would allow states to withhold funding to Planned Parenthood and other clinics that perform abortions. His order will also affect the distribution of Title X funds, meant to offer low-income individuals and families vital health service options. Senator Jeff Flake, one of several Republican senators who voted in favor of this legislation, was confronted about his decision in an Arizona town hall by an unlikely challenger–a 16 year old high school student.
"I just want to state some facts," Deja Foxx said standing up at Senator Flake's town hall. "I'm a young woman; you're a middle-aged man. I'm a person of color, and you're white. I come from a background of poverty, and I didn't always have parents to guide me through life; you come from privilege."
Foxx went on to challenge Flake's support of a bill that could defund Planned Parenthood, which provides health services and contraception to millions of people every year. "I'm wondering, as a Planned Parenthood patient and someone who relies on Title X, who you are clearly not, why is it your right to take away my right to choose Planned Parenthood and to choose no co-pay birth control?"
Foxx is one of many who rely on the services provided by Planned Parenthood in Arizona. According to the Arizona Family Health Program, their teen pregnancy rate alone could jump by 22 percent if Title X-supported services are cut. The rate of unintended pregnancy, unplanned birth, and abortion — as much as 27 percent. Lawmakers will never stop people from having sex so why would you not want all of those people having sex to have access to birth control?
Planned Parenthood receives around $500 million a year in federal funding, most of which comes through Medicaid. As a gentle reminder, the 1976 Hyde Amendment bars the use of federal money to fund abortions themselves. So defunding these clinics does not mean defunding abortion. It's just defunding clinics that perform abortions (which constitute just three percent of their services). Defunding these clinics means defunding spaces that provide cancer screenings, STD testing, pap smears, health exams, and low cost birth control options for low-income patients.
Her question was met with cheers and applause from the town hall participants. To this, Flake replied "I'm glad to hear of my privileged childhood." He went on to explain he grew up in a family with 11 children and had to pay for his own college education.
Without skipping a beat, Foxx replied, "Privilege comes in many forms."
Flake acknowledged Foxx and agreed he'd had advantages many others had not. Then said, "What I want is to make sure that everyone can realize the American Dream. That's why I support the policies that I support."
It's unclear if Flake believes everyone shares the same dream or how cutting funding to critical health services would somehow impact a person's dream negatively. If he is referring to the dreams of the unborn babies he believes he is saving, perhaps he would be wise to fund the contraception provided by Planned Parenthood that prevents an estimated 197,000 abortions every year.
Planned Parenthood provides services which help thousands of women go on to be successful and reach for higher education and career goals. They provide education, STD prevention (which has been shown to reduce HIV diagnoses per capita), and choice.
"Why would you deny me the American Dream?" Foxx concluded.
A question millions of women have been forced to ask themselves since November.