14-Year-Old With Down Syndrome Was Cut Out Of Her Cheerleading Yearbook Photo
by Erica Gerald Mason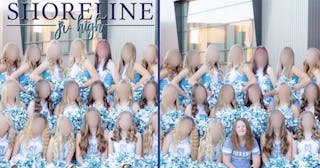 ABC4
The school district is working with the teachers involved to determine why the error occurred
Here's the thing about siblings: They may have minor squabbles and annoyances, but when the chips are down, they'll come through. And so it was with 25-year-old Jordyn Poll, who told ABC4 Salt Lake City that her sister was left out of her school's cheer team's photo. Her 14-year-old sister, Morgyn Arnold, lives with Down syndrome and is on the Shoreline Junior High School cheer team.
"My heart was broken that a child would have to see that she was not included with her friends," Poll told the news outlet.
Poll said when the school's yearbook came out, her sister showed her the cheer team page. When questioned about her absence in the photo, Poll discovered something disturbing: two photos were taken. Morgyn was in one picture and not in the other. It was Poll's sister-free snapshot that appeared in the school's yearbook, social media posts, and yearbook. Her sister was devastated, Poll said.
The family has decided not to make Morgyn available for interviews, as they do not want the teen to be exposed to the ugly side of the internet. The New York Times said this was due to concerns over online harassment. But according to Poll, Morgyn has already forgiven everyone involved.
Morgyn's dad Jeff Arnold told BuzzFeed the experience has been difficult for his daughter.
Initially, Morgyn had been excited to receive her yearbook, he said. But when she found she was left out of the photo, she didn't want to see it.
"I said, 'Morgyn, how are you okay? How do you feel?'" Arnold said. "She said, 'I'm sad, but those are my friends.'"
A school district investigation is currently underway, and the family is hopeful this will result in lasting changes.
"I don't think anybody had ill intent in this," Shauna Lund, spokesperson for the Davis School District, told ABC4. "It was just a mistake that was made and we're trying to figure out why that mistake was made."
Poll told ABC4 this is the second time her sister Morgyn has been left out of the yearbook — once the teen was left off of the class roster entirely. She said with the attention her Facebook post is getting, she hopes positive change will happen at the school. The post has been shared thousands of times, and Poll said they heard of it reaching someone in Scotland.
Poll said the family believes the school district is doing what it can and believes it will continue to work to improve.
The district released a formal statement on Facebook, before wiping its social media presence from Twitter, Facebook, and Instagram: "We are deeply saddened by the mistake that was made. We are continuing to look at what has occurred and why it occurred. Apologies have been made to the family and we sincerely apologize to others impacted by this error. We will continue to address it with the parents of the student. We will continue to look at our processes to ensure this does not happen again."
Poll was careful to say the family isn't mad and have no intentions to embarrass the school for the mistake. She said right now, they are following Morgyn's example.
"Morgyn, when asked how she felt said she loves those girls. They are her friends and she has forgiven them," Poll said.
Morgyn's father told Buzzfeed that he hopes Morgyn's story starts more conversations about inclusion, and not just for people with special needs.
This article was originally published on