Teen Dies After Being Electrocuted While Using Cellphone In Bath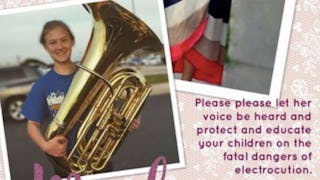 Image via Facebook
Her family is sharing her story to prevent future tragedies
A Texas teen lost her life this past Sunday morning after being electrocuted in the bathtub. The cause is something kids (and their parents) may not realize is deadly. Now, her family is speaking out in hopes of preventing others from suffering her fate.
Fourteen-year-old Madison Coe of Lubbock, Texas died of electrocution after plugging in her cell phone or grabbing her phone that was already plugged in while sitting in the bathtub. Her grandmother, Donna O'Guinn, tells KCBD that the tragedy occurred at Coe's father's house in Lovington, New Mexico.
"There was a burn mark on her hand, the hand that would have grabbed the phone. And that was just very obvious that that's what had happened," says O'Guinn.
The teen recently graduated from Terra Vista Middle School in Frenship ISD. The school released a statement after hearing of her death. "It is with heavy hearts that Frenship ISD mourns the loss of Madison Coe. We wish to share our heartfelt sympathy with her family and friends as we carry the burden of this tragedy together."
"I call her my shining star," O'Guinn shares. "She was very smart, a very good student in school. She just loved life." Coe was a basketball player and number one chair among the tuba players in her school's band. "She was just sweet to everybody and everybody loved her," says her grandmother.
Coe's family is grappling with losing her in a horrific accident that could happen to anyone, and in their grief, they're turning to promoting awareness. "This is such a tragedy that doesn't need to happen to anyone else. And we want something good to come out of this as awareness of not using your cell phone in the bathroom as it is plugged in and charging," says O'Guinn.
It's certainly not a danger that would've occurred to me if I hadn't been told, which means my kids wouldn't know either. Of course, most of us are aware that electronics and water don't mix, but the fact that merely handling a plugged-in cell phone while sitting in water could cause electrocution is likely surprising information to some.
And that's exactly why the family is speaking out.
O'Guinn is overcome by the idea of helping stop others from dying the way her granddaughter did. Her family's strength in sharing her story means they could help save lives. She says, "It's overwhelming to realize that there are people that we don't even know and we'll probably never even meet that have taken this message and shared it to protect another child or even an adult. We don't want to lose anybody."
This article was originally published on