Mom's Viral Facebook Post Leads To Police Investigation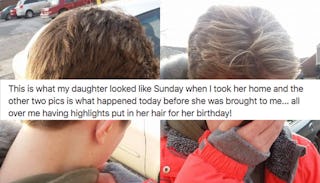 Image via Facebook/Christin Johnson
Teen's mom posted the photos showing her visibly upset by forced hair cut
Mom Christin Johnson took to Facebook recently to share some disturbing photos of her daughter who'd allegedly been forced to get an extremely short haircut by her father and stepmother. The reason? They didn't like the recent highlights she'd gotten for her birthday.
Johnson, who lives in Fostoria, Ohio, posted the pictures, saying, "This is what my daughter looked like Sunday when I took her home and the other two pics is what happened today before she was brought to me… all over me having highlights put in her hair for her birthday!"
Her daughter, Kelsey, looks distraught in the photo, covering her face and visibly upset. Allegedly, her father, Schaffen Frederick, and stepmother, Sarah Murray, made the young girl cut her hair as punishment for getting the highlights, which her mother allowed.
Johnson's post then went viral, prompting the local Haskins Police Department to investigate. Police Chief Colby Carroll told BuzzFeed News that Kelsey's mom has now filed a formal complaint alleging her daughter's father and stepmother forced the haircut on their daughter as punishment.
Besides the police investigation, Frederick and Murray are also being looked at by the Wood County Children's Services according to Middleton Township Fire Chief Steve Asmus. Children's Services, however, can't comment on that information. Both Frederick and Murray have been put on leave from their volunteer firefighter positions at Middleton Township Fire Department, Fox 4 reports.
"I've been doing this since '92 and I've never had a case I would say that's like this," Carroll told Fox 4. The "potential child abuse" case is is now pending with both organizations, Carroll said.
Johnson and her daughter are upset by the ordeal, and rightly so. Cutting your child's hair off as punishment is inexcusable, vile, and can be humiliating for the child. Luckily for Kelsey, she is surrounded by people who love her and were able to offer her a bright spot in an otherwise awful situation.
"I'd like to thank the ladies at Lady Jane's on Glendale in Toledo, OH for making my baby feel more like herself!" Johnson posted the following week. "Especially Haylee Ann for taking her to pick out her new hair. She got her smile back because of you ladies and your selfless acts of kindness! We truly appreciate you ladies so much! Haylee, you are the best God mother to Kelsey and the bond you two share is incredible, we love you so much!"
Though it likely won't fix the emotional toll the ordeal has taken on the young girl, according to her mom it at least allowed her to feel "more like herself."