Teen Called Out For Ridiculous Dress Code 'Violation' On Day Of AP Exams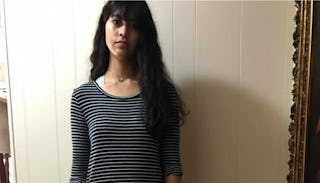 Image via Facebook.
"Apparently the length of her skirt is more important than her education."
A mom is speaking out after she says her daughter was unfairly shamed about a dress she wore to school.
Sophia is a 17-year-old junior at Tom C. Clark High School in San Antonio, Texas. Last Friday, she was prepared for three major exams but was blindsided when school officials called her out for an alleged dress code violation. She called her mom, Rosey Abuabara, in tears.
"Don't understand how this is a dress code violation," Abuabara wrote in a post she shared on Facebook with a picture of her daughter wearing the dress administrators deemed inappropriate. "She's 5'9″. It's hard to find anything that fits longer." The dress looks perfectly fine to us.
School officials insisted that Abuabara needed to bring a change of clothes to the school for her daughter. While the mom did rush to the school, she didn't bring a change of clothes because she didn't want to disturb her daughter who was taking two AP exams and a Latin 3 test, according to TODAY. If you don't know, those are some crazy-hard tests to take in general let alone on a day when an overzealous administrator wants to harass you about your clothing choice.
How do we know the administrator was in the wrong? Because Abuabara measured the striped tunic earlier in the day. The school requires skirts and dresses fall "no more than four inches above the top of the kneecap," Abuabara explained. The mom told principal Dr. Jerry Woods that she had measured the dress. "He said that it did not matter," Abuabara told TODAY. "He said what mattered was the judgment call from the administrator."
Yeeeah, that's not how these things work. You draft a series of rules and everyone has to follow them. School officials don't get to override the rules without good reason. There's no defense for the school officials decision to single Sophia out when she wasn't violating the dress code policy.
"He was really concerned about my daughter getting pictures taken of her climbing up stairs," Abuebara shared. So it sounds like the principal has had an issue with students taking photos up girls' skirts, which is illegal. If you're worried about your students committing a crime, the solution shouldn't be to tell female students that they have to wear pants. This reasoning sets no one up for success. Abuebara added: "She's going to climb up stairs when she's in college. I don't know. It got kind of crazy."
In addition to a ridiculous explanation for his administrator's error in judgment, principal Woods allegedly laughed at Abuebara when she expressed how upset her daughter was after being singled out by school officials. "The principal laughed because he thought that it wasn't anything for her to be crying about," the mom explained. "I told him that was a very sexist thing to say."
Sophia was able to finish her tests even though the principal tried to pull her out of her Latin exam, Abuabara said. Thankfully, one of Sophia's teachers stepped in and told Woods to wait, which, for the record, is common sense. Test anxiety is real and no one should be distracting students while they're taking any type of test. "She said just knowing she needed to talk to him messed with her concentration," Abuabara shared.
Even though Sophia was able to finish her tests, her mom said the whole ordeal left a negative impression. "They shamed my daughter," she said. "She's worn this dress to school before, and nobody told her anything … She didn't understand why this time, there was a problem."
Understandably, Abuabara wasn't happy with how the school handled the entire situation and is worried that officials don't understand what is important in the lives of their students. "My daughter is number one in her class," Abuabara said during a Facebook video. "She is class president; she has raised thousands of dollars for the school prom. Apparently, the length of her skirt is more important than her education."
The school released a statement to the media that doesn't do much to clear their name. "This issue was addressed by campus administrators in a manner consistent with other dress code concerns on their campus," says Barry Perez, a spokesman for Northside Independent School District."The student was not taken out of class during a test. She visited with a campus administrator after her test was completed. No disciplinary action was issued. Campus administrators have met with the student and her parents to discuss the matter and it has been resolved."