Teen Makes Adorable Scrapbook For His Girlfriend And Twitter Approves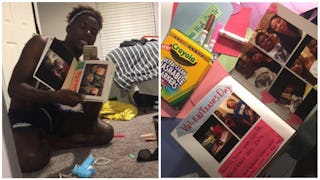 Image via Twitter
All of Twitter wants two teens to get married after their scrapbook gift went viral
Seventeen-year-old high school seniors Justin Evans and Jamie Chaffer have been best friends for a while now and as such, Evans wanted to make sure their memories lived on in something outside of their phones.
The two told Buzzfeed News, "We were best, best friends in middle school." By their sophomore year of high school, they had started dating. Now, about to enter into their senior year, they're still going strong together.
Any couple that's been friends for that long is bound to have plenty of history together. When Evans started to realize how many pictures he and Chaffer had taken over the years, he decided he wanted a way to memorialize all those special moments in their relationship. He also wanted to keep them safe from being lost in case of a disaster situation like a lost or broken phone.
"There's been situations where people break their phones and lose all their pictures," he explained. "I thought, 'Why not make a book?'"
So that's what he did. Evans spent about a month of his summer vacation painstakingly putting together a scrapbook of all his memories with Chaffer, complete with matching page decorations made out of colored paper. It was truly a labor of love — Evans said he sustained a number of burns from his hot glue gun, and since he and Chaffer see each other every day, he had to work on this project late at night so she wouldn't catch him in the act.
"The hardest thing about it was keeping it a secret," he said, adding that building the book was a "long process."
The end result, though, is so worth it. After giving the gift to Chaffer, Evans shared some photos on Twitter, which have since gone viral.
"3 glue gun burns, 7 marker stains, 4 paper cuts, and still not enough pages to show how much I love you," he wrote, along with a green heart emoji. Just excuse us for a minute while we die from the cuteness.
And we're totally not alone. The internet cannot even handle how precious this gift is.
https://twitter.com/jetpack/status/888888206573416448
Twitter is already calling for the two teenagers to just get married already — and. Evans seems to be on board with that idea.
Maybe since they're both 17, they should hold off on walking down the aisle for a year or five. But the love is clearly there for these two. And, most importantly, according to Evans, Chaffer loved the gift.
"It wasn't any kind of special occasion, it was just random," he said. Now she looks at the scrapbook almost every day. Here's hoping they'll keep adding to it.
Young love, y'all. It's too pure for this world.
This article was originally published on