Teen Hears Her Brother's Heartbeat Inside The Girl Whose Life He Saved
by Ashley Austrew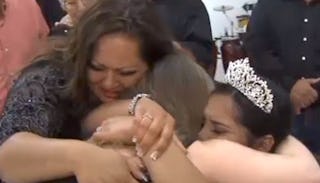 A teen got to meet the recipient of her deceased brother's heart
A 15-year-old girl's Quinceanera celebration took an especially emotional turn after her parents gave her the gift of a lifetime: a chance to meet the girl who received her late brother's heart.
Monique Salinas' brother, Mikey, was killed in a car accident ten years ago. Mikey was only five years old at the time, and his mom, Melissa Hernandez, made the difficult decision to donate his organs in the hopes of helping other kids. One such child was Aubrey Reeves, who received Mikey's heart and one of his kidneys in a life-saving operation after two previous heart transplants had failed.
Reeves is 18 years old now and traveled to Benavides, Texas, from her home in Wichita Falls to give Monique her greatest wish: hearing Mikey's heartbeat. Reeves was contacted by Monique's mom and showed up as a surprise guest during her birthday celebration. In moving footage captured by News3, the pair can be seen embracing and crying together, as Monique whispers, "Don't let go."
A photo captured by Reeves' mother, Cheryl, also shows Hernandez weeping as she puts an ear to Aubrey's chest.
Hernandez tells ABC News that Mikey's heart has always held a special significance for her family. "My son and I had a thing," she said. "I'd put his hand on my heart and my hand on his. I'd say to him, 'Do you feel that boom boom? Every time you get scared and you miss dad or you miss mom, put your hand on your heart and rub it because mommy rubs her heart all day thinking of you.'"
Since the emotional reunion, Aubrey and Monique say they've become lifelong friends. Says Aubrey, "He's still here, through me, in me. I will always be here for her [Monique] whenever she needs me, because she didn't get to have that with Mikey, but she can have that with me."
It's impossible to imagine the pain of losing a son and a brother, or to be in the position of deciding whether or not to donate your child's organs. Hernandez says she knows she made the right choice, but that doesn't diminish her pain or how much Mikey is certainly missed in their lives. Both Monique's and Aubrey's families have been through so much, and it's heartwarming that Aubrey was able to show, at least in a small way, that Mikey will always be with both of them.
This article was originally published on