17-Year-Old Mom And Her Premature Baby Neglected At Border Patrol Facility For 7 Days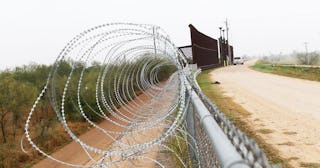 SUZANNE CORDEIRO/Getty
The baby was weak and listless, receiving no medical attention since birth
It seems every day there's a new story surfacing about the horrifying conditions at border patrol and immigration holding facilities across the U.S., and today is no exception. A baby born prematurely and her 17-year-old mother, recovering from a C-section, reportedly spent seven days in Border Patrol custody with almost no attention.
According to lawyers who visited an immigrant processing station in McAllen, Texas, the month-old baby was "wrapped in a dirty towel, wore a soiled onesie, and looked listless," attorney Hope Frye said. Her mom was placed in a wheelchair, in so much pain she couldn't lie down from her surgery, where there were complications.
"I looked at that baby and said 'Who does this to babies?'" Frye said. "They were being sadistically ignored."
The new mom had been taken to the hospital once to receive pain medication, but her baby had zero medical intervention since they were born. She gave birth in Mexico after fleeing her home country of Guatemala on her way to the U.S. to seek asylum.
"The situation is so egregious and so inexplicable," Frye said. "No person of good conscience could see this and think it's alright to do any of what they've done."
The already terrifying situation at facilities housing immigrants across the U.S. has gotten even worse in recent months. Five children have died in custody since December 2018, and conditions in the facilities themselves have reached the point of being unlivable because of overcrowding and poor management after coming to these facilities in already poor health from making the trek from their homeland to America. For kids separated from their parents, many have been required to represent themsleves in court and have no idea when –or if — they'll ever see their parents again.
The health of this newborn is still unknown, but Frye reported that an immigrant rights advocate who was with them in Texas told her the baby hadn't cried in over five hours and was "weak and listless." The attorneys and advocates reportedly did call 911 and local Child Protection services but they didn't have jurisdiction over the facility and were unable to help.
According to federal law, kids under the age of 12 should not be kept in government custody longer than 72 hours, but because of the sheer number of asylum seekers, those timeframes are often much longer. "I don't have any beds, because we're meant to be short-term processing — not even holding," one CBP official in Rio Grande Valley told The Washington Post. "I have stools and benches, but I have no beds. . . . Our facilities are not built for long-term holding, and they're certainly not built to house children for very long at all."
Lawyers did confirm that this family was finally transferred from this border location to a resettlement facility.
The fact that a teen mother and her newborn child were kept for a week with almost no medical attention is abhorrent. These are human beings putting their lives at risk in search of a better life. They are being treated like animals. These are human rights violations and it seems, at least under this administration, nothing is being done to rectify the situation.