Cars Honk As Man In Wheelchair Crosses Street In A Storm, Teen Pushes Him All The Way Home
by Julie Scagell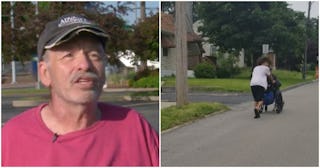 Amber Gilleylen/Facebook
The double amputee was trying to get home before a big storm hit
Gregory Beck, a double amputee and legally blind from diabetes, was trying to get home last week when tornado sirens sounded. Thanks to the quick actions of a local teen and his mom who saw Beck struggling, he made it just in time.
"Everyone kept telling me the storm is coming and you need to hurry up and get home," Beck told news station KMOV4. He said it would typically take him around 25 minutes to get back home from the store because he needs to stop as many as ten times during his trips to rest. But as other drivers honked at him to hurry across the road, 16-year-old Seth Phillips and his mother, Amber Gilleylen, decided to help.
"So I would like to share a VERY PROUD mama moment," Gilleylen posted on Facebook.
Today the kids and I went to the grocery store before the storm came in. We loaded our things and got on our way home…We passed this man trying so hard to get his wheelchair off the main road."
Gilleylen said they stopped to ask the man if he needed help and he said yes. "Without a second thought, Seth jumped out of the car and pushed this man who was a double amputee up a hill about a block and a half. While the tornado alarms were sounding," she wrote.
She said Beck was grateful for their help, telling Gilleylen she was raising her kids well. "I explained to him that my grandfather was a double amputee and that I was raised to help if you can. He said he could have been caught in a terrible storm and because of this young man he gets to go home dry and safe," she continued.
Gilleylen posted a couple of quick videos of Seth pushing Beck's wheelchair and you can clearly hear the sirens going off in the background. That fact that other drivers just honked and yelled at him while he was clearly trying to get home to safety is appalling.
She said when Beck was safely home, Seth got back in the car and said, "Mom I hate that we live in a world where people would rather fly by and honk at a disabled person than to lend a hand." He's right. It only takes a minute to help someone in need. Seth did what someone should do — lend a helping hand when you see they need it.
Gilleylen tells Scary Mommy Seth doesn't understand why he's getting so much attention now that his story has gone viral, but since it has hopes to "use it to inspire others to spread love and kindness."
"I told him that's why its SO important that we do what we can to always help. Every little bit truly does count," Gilleylen continued. "He is truly my pride and joy."
For Beck, he was appreciative of getting home before the storm came and of the strangers that got him there. "Just the greatest people and very concerned about other people, which America needs to start doing more of," Beck said.
This article was originally published on