Teen Shaves His Head To Surprise Homecoming Date Fighting Cancer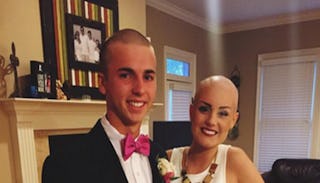 Image via Twitter
High school junior Allie Allen had brain cancer two years ago, and after treatment and surgery, was cancer-free. That is, until it's recent return. After her hair began falling out in chunks, Allen took the pro-active approach and in her words, "decided to pull a Britney Spears 2007" by shaving her head. This all happened right before her school's homecoming dance, a time when every teenage girl deserves to feel gorgeous. Her date decided to shave his head too and it's the sweetest thing you'll see today.
From her blog, Allen writes of the moment she noticed her hair coming out after starting up chemo again. "Wednesday afternoon I got out of the shower and brushed my hair and noticed my hair falling out. Of course I had a meltdown. It's easy for some people to say 'it's just hair' but it's hard when you're a teenage girl." Never mind the fact that this would be hard on a grown adult let alone a teenage girl, Allen goes on to describe her decision to shave her head. "On Saturday the majority of my hair was falling out and it was just torture to watch. Sunday morning I woke up with about 2 chunks of hair left and I decided to pull a Britney Spears 2007 and shave my head. That was very hard for me to do but that's one thing I got over with and I'm not stressing over anymore."
After her initial round of treatment, Allie came home from the hospital to discover what childhood friend and homecoming date Brayden Carpenter had done to make her feel less alone after losing her hair. Check them out in all of their adorable pre-dance glory:
For a teenage boy, shaving his head might not be too big a deal since boys tend to wear their hair short and it will grow back quickly, but this is certainly a case of "it's the thought that counts." The fact that it occurred to Carpenter that it might make Allie smile and feel like someone has her back is simply heart-warming. You can see from the look on her face that it worked.
On top of her own illness, Allie lost her grandfather to brain cancer this past March and her mother is currently battling breast cancer. This young girl has had more heartache in her 16 years than most of us will in a lifetime. Hopefully, this dance and the sweet gesture of her friend made her forget her troubles, if only for a few hours.
These days, we read many negative stories about teens. Headlines about bullying, poor social skills due to phone addiction and entitled kids expecting the world dominate the internet. Stories like this remind us that today's teens are actually pretty great. And that's a wonderful thing to hear.