What I Learned When My Teen With Anxiety Performed In Front Of A Live Audience
by Allison Andrews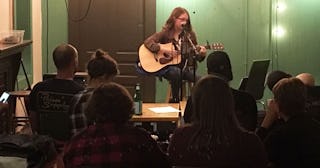 Courtesy of Allison Andrews
I held my breath as my daughter took the stage, bracing myself for the haters. In a split second, I wondered if I had made the right decision by saying yes to her idea, but it was too late to turn back.
My 14-year-old daughter struggles with anxiety. The same daughter now ready to sing before a live audience in the small crowded college hangout. The same daughter who looks years older than she is and more poised than I know she feels.
Just two weeks ago, we were on a trip when she saw the ukulele, begging me to get it for her. I went through the usual barrage of mom questions. Why did she want it? How much was it? Was she really going to use it?
Eventually, I couldn't resist her enthusiasm. I had been waiting for my child to find "her thing"… that thing that lights her soul on fire.
For the next 12 days, she holed herself up in her room watching ukulele videos on YouTube. Then came the big announcement. She wanted to perform at an open mic night… and she wanted to sing.
My daughter is a lot of awesome. She's funny, creative, smart, a theater kid. She is naturally gifted at playing music. She is NOT the best singer on the planet. I was afraid for her about what others would think.
As a rational, grown woman, I know that there are always haters. I know we shouldn't let them steal our joy. I understand that it's more about "them" than "us." Even so, NO ONE wants to hang out with their haters. In fact, many people spend their lives trying to avoid them.
My daughter records a million videos she never posts because she thinks they aren't perfect.
I keep trying to tell her they don't have to be perfect, but anxiety gets the best of her more than not. I want her to find what she loves and not worry about what anyone else thinks.
But I'm also a realistic and practical mama.
I wish I could say I was one of those women who wore a two-piece to the beach without feeling a bit self-conscious. I'm not. I hate to admit that. I want my daughter to be the girl in the suit, living her best life. I want her to embrace who she is unapologetically and love all of her imperfect parts.
So, I decided I was not going to try and control the situation, as I too often do, and said, "Ok, sure!"
How could I tell her to put herself out there and then tell her only in certain situations?
How could I tell her to do what she loves and then tell her only if I thought she was good at it?
How could I tell her she doesn't need to be perfect and then expect her to be?
How could I tell her not to let anxiety limit her life and then try to protect her from it?
As she waited her turn, her nerves were starting to get the best of her again. I resisted suggesting she wait until she had more time to rehearse and let her practice the anxiety coping tools she had learned. She clearly wanted to do this.
She walked up on the stage and opened up with a little story that got the audience laughing.
I relaxed a little, still bracing for what was next. Then, she KNOCKED. IT. OUT. I mean, she killed it! No pitchy notes. Chords on point. My girl showed her anxiety who was boss! The audience sang along and burst into applause.
That night, I was prepared to teach my daughter how to handle your haters. Instead, my daughter taught me it doesn't matter if it's a boss, a friend, or your mom — if someone tells you "You can't," IGNORE them. Do you. Trust your gut. Go with your heart. EVERY. TIME. Anxiety can suck it.
This article was originally published on