Teenage Boy Spends 18 Days In Hospital For Vape-Related Lung Damage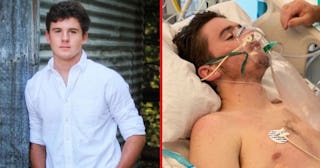 GoFundMe
Parents, doctors, and health advocates everywhere have been stressing for years how damaging vape pens and e-cigarettes are, and in the last three months, the CDC reports that there have been "193 potential cases of severe lung illness associated with e-cigarettes." In Texas, a teenager who had been "vaping" for years was placed in a medically induced coma after his seemingly healthy lungs gave up.
"I woke up just throwing up everywhere, and my heart was beating out of my chest going 100 miles an hour," 17-year-old Tryston Zohfeld told ABC affiliate WFAA.
Zohfeld's parents rushed him to the hospital on July 26, 2019, and he was admitted to the ICU after X-rays of his lungs showed a complete blockage. Doctors placed him in a medically induced coma where an oscillatory ventilator kept him alive for over a week. Tragically, Zohfeld — who was otherwise healthy and athletic — had been vaping since he was in the 8th grade, but he kept it a secret from his parents, making it more difficult for doctors to diagnose the teen.
Finally, while Zohfeld was in the coma, a family member revealed his secret vaping habit.
"The lightbulb started coming on," his father Matt Zohfeld told the news outlet. "It started making sense why we weren't finding anything else."
Vaping is not the "safe" alternative to smoking cigarettes that many teens believe it to be. According to The Center on Addiction, "Vaping is the act of inhaling and exhaling the aerosol, often referred to as vapor, which is produced by an e-cigarette or similar device," and added that the chemicals in e-cigs and vapes are incredibly dangerous. "The e-liquid in vaporizer products usually contains a propylene glycol or vegetable glycerin-based liquid with nicotine, flavoring, and other chemicals and metals."
Dr. Karen Schultz, Zohfeld's doctor and a specialist in pediatrics and pulmonology, explained to CBS News that Zohfeld lungs were inflamed, scarred, and could no longer exchange oxygen and carbon dioxide.
According to his GoFundMe, Zohfeld spent 18 days in the hospital and was released on August 12. He is now going to physical therapy to learn how to walk again.
The teen said he's worried about his long-term health but plans to speak openly about his ordeal. He said that his friends and classmates have already thrown out their e-cigs and vape pens.
Sadly, Zohfeld's case isn't the only statistic in this recent outbreak of vape pen and e-cig tragedies. On Friday, August 23, 2019, Illinois officials reported the first-ever vape-related death.
They did not disclose the person's identity or symptoms, only that they were an adult with a history of vape use and severe lung damage.
"The severity of illness people are experiencing is alarming and we must get the word out that using e-cigarettes and vaping can be dangerous," the Illinois Department of Public Health said in a statement after the death.
E-cigarettes and vape pens have been popular for a few years, but the CDC is looking into the reason behind the string of recent outbreaks, which seemed to begin in June. The investigation is ongoing.