Why The F*ck Are Teens Are Still Eating Tide Pods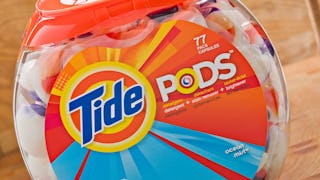 Image via DebbiSmirnoff/Getty
Teens are eating more Tide Pods than ever
There's an insanely dangerous teenage trend happening right now — and it doesn't seem to be going away anytime soon. Kids are eating Tide Pods (yup, Tide Pods) just for fun, and posting videos of themselves in the act. It's gotten so bad that the American Association of Poison Control Centers (AAPCC) sent out a "HIGH ALERT" press release detailing the spike in laundry pod-related illnesses.
"The American Association of Poison Control Centers expresses continued concern over the improper use of single-load laundry detergent packets as the number of intentional exposures among teenagers rises," the report began. "Last week, AAPCC reported that during the first two weeks of 2018, the country's poison control centers handled thirty-nine intentional exposures cases among thirteen to nineteen year olds."
The press release went on to note that the number of cases has shot up to 86 (!!) during the first three weeks of 2018 — which is just horrifying.
"We cannot stress enough how dangerous this is to the health of individuals — it can lead to seizure, pulmonary edema, respiratory arrest, coma, and even death," the AAPCC wrote.
Tide is also attempting to dissuade teens from ingesting their products — which is a sentence I never thought I'd write. The company released a video featuring New England Patriots' tight end Rob Gronkowski explaining the proper uses for laundry detergent.
"What the heck is going on, people?" he asked. "Use Tide Pods for washing." Yup, sounds about right.
The Tide Pod problem has become something of a three-headed beast. Turns out, teens have actually been writing reviews for the laundry detergent on Amazon, and complimenting the taste. There are literally reviews that suggest putting the Tide Pods in between pop-tarts and eating them like a sandwich. One reviewer claimed to use the Tide Pod as a "flavor enhancer" for water.
"Customer safety is of the utmost importance and we suppress Customer Reviews or other content that encourages physical harm," an Amazon spokesperson told Motherboard, adding that the company will be deleting reviews that promote eating Tide Pods.
Hopefully, hopefully this trend dies out before more people get hurt. It really makes you deeply appreciate the innocent days of Tamagotchi, AIM, and Ouija boards. Can we bring those back? Please and thank you.
This article was originally published on