New Data Shows Teens Are At Increased Risk For COVID-Related Hospitalization
by Virginia Duan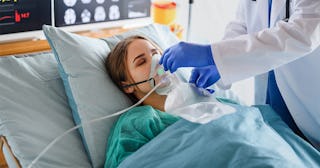 Halfpoint/Getty
In light of a new study showing that COVID-19 adolescent hospitalizations rose during March and April, Centers for Disease Control and Prevention (CDC) Director Rochelle Walensky is urging parents to vaccinate their teenagers in order to protect them. Despite the fact that children and teenagers often do not have as severe a case of COVID — COVID can still be incredibly deadly and serious for babies, children, and teenagers.
"I am deeply concerned by the numbers of hospitalized adolescents and saddened to see the numbers of adolescents who required treatment in intensive care units or mechanical ventilation," Walensky said in a June 4 statement. "Much of this suffering can be prevented." Walensky beseeched parents, relatives, and close friends to speak to teenagers about the importance of non-pharmaceutical prevention methods in tandem with vaccinations.
Teens are at increased risk of COVID related hospitalization.
Even though most COVID related hospitalizations are associated with older adults, all age groups have required hospitalization among those with severe symptoms. Though teen COVID-19 related hospitalizations decreased in early 2021 to 0.6 per 100,000 in mid-March, it more than doubled to 1.3 in April even though the rates stabilized for adults 65 and older. This is thought to be due to the high vaccination rate of 77% in that population. No deaths occurred among the hospitalized teens, but almost 1 in 3 required ICU admission and 5% needed invasive mechanical ventilation.
Despite the study being comprised of a small number of adolescents, experts and CDC officials are worried about the increased potential for severe cases of COVID in the teenage population. "Vaccination is our way out of this pandemic," Walensky said. "I continue to see promising signs in CDC data that we are nearing the end of this pandemic in this country; however, we all have to do our part and get vaccinated to cross the finish line."
Why are teens at increased risk for COVID hospitalization?
There are several factors that researchers think have contributed to the increased hospitalization rate among teenagers with COVID. For one, there are now several more highly transmissible and more dangerous variants such as the Delta variant — which is 40% more contagious than the Alpha variant that was already more contagious than the original strain.
To put that in perspective, in an op-ed for the New York Times Zeynep Tufekci broke down the danger of increased communicability. "If a virus that could previously infect three people on average can now infect four, it looks like a small increase," she explained. "Yet if you start with just two infected people in both scenarios, just 10 iterations later, the former will have caused about 40,000 cases while the latter will be more than 524,000, a nearly 13-fold difference."
In addition, many kids had returned to school right before summer break — and now that a lot of the preventative measures like social distancing and mask wearing have loosened and it is summer — there are simply a lot more opportunities to catch COVID. Especially since as of June 18, only 23.3% of children aged 12 to 15 and 4.4% aged 16 to 17 are fully vaccinated.
How can we keep our teens safe from COVID?
Now that we're over a year and half in, we know what works. Don't let reopening states and relaxed masking requirements cause you to let down your guard. Yes, it sucks — but with only 44.7% of the total U.S. population fully vaccinated (like, seriously, this is mind-boggling to me) and only 52.3% of people 12 and older in the U.S. fully vaccinated (again, baffling), it's not even remotely close to numbers we need for potential herd immunity (which experts think are increasingly implausible).
Get your teen (or anyone over 12) fully vaccinated as soon as possible. We are still vulnerable to variants — especially since the longer people remain unvaccinated, the more likely they will be incubators for variants which may render our current vaccines less effective. Cover your face with a mask, avoid crowded spaces, choose areas with good ventilation — especially outside — and constantly wash your hands or use hand sanitizer with at least 60% alcohol.
Keep your teen up to date on other vaccinations and continue to be cautious with who your children hang out with regardless of vaccination status. Refresh your kids on CDC guidelines for COVID. Remember that though kids are 8,700 times less likely to die than adults over 85, COVID can still kill children and teens — especially if there are underlying health issues, difficulties in access to health care, and complications like MIS-C.
Information about COVID-19 is rapidly changing, and Scary Mommy is committed to providing the most recent data in our coverage. With news being updated so frequently, some of the information in this story may have changed after publication. For this reason, we are encouraging readers to use online resources from local public health departments, the Centers for Disease Control, and the World Health Organization to remain as informed as possible.