Teens Who Made Nazi Salute In Viral Photo Won't Face Consequences At School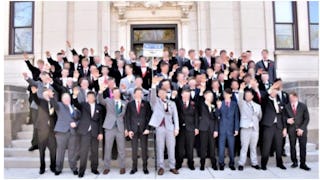 Image via TWITTER/JULES SUZDALTSEV
Teens who posed for prom picture doing the Nazi salute won't face repercussions
Last spring, 30 students from Baraboo High School in Wisconsin posed for their prom photo doing the Nazi salute. The picture spread across the internet, causing a massive uproar, and a police investigation took place. Now, it turns out that the school district won't be punishing those students because they believe the Nazi salute falls under the category of "free speech."
In a letter sent out to parents, Baraboo School District Administrator Lori Mueller explained that the students won't face consequences for displaying the hateful symbol (along with one teen who appeared to be giving the OK gesture, which is linked to white supremacy).
"We cannot know the intentions in the hearts of those who were involved," Mueller said. "Moreover, because of students' First Amendment rights, the district is not in a position to punish the students for their actions."
It's worth noting that this statement isn't totally accurate. One Twitter user pointed out that Baraboo High School's 2018-2019 Code of Conduct states that students must "respect the right of all students and adults in a safe school environment – safe from verbal, physical, and sexual harassment." Doesn't throwing up a Nazi salute, which symbolizes hatred and violence towards Jewish people, violate that code of conduct?
Mueller added in her letter that students at Baraboo High School will learn "restorative practices" to mend rifts between the school and the community. Perhaps the first "restorative practice" could involve sitting all of those teens down and having them take a mandatory class about the horrors the Nazi salute represent? Just a thought.
Many people didn't take kindly to the news that the school district won't punish the students for that picture. They pointed out the total hypocrisy involved and noted that free speech doesn't protect hateful, bigoted actions.
Meanwhile, there have been a lot of excuses given for why the boys did that salute.
"As we were about to take that photo, the photographer instructed the boys to give a 'high-sign,'" Brock Turkington, one of the teens in the photograph, told WISC television station. "The photographer instructed us to extend our arms out, no one knew what a 'high-sign' was. I asked another student next to me 'What are we doing?' He responded, 'Stick your arm out.'"
The photographer had a different story. "I'd said to them, 'O.K., boys, you're going to say goodbye to your parents, so wave,'" Peter Gust told WISC. He claimed that people are "dead wrong" to view the hand gestures as Nazi salutes.
Yeah, okay.
The district had the chance to teach these boys the true impact of history and that actions have consequences, but they decided to just sit this one out. It's more than disappointing — it's continuing to breed ignorance.