Teens Cover Classmate's Coffin With Messages Of Love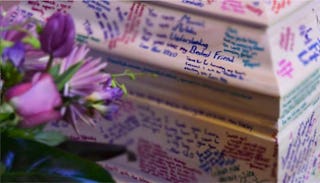 A high school student who tragically passed away from cancer received a touching memorial from her classmates. Together with Laura Hillier's parents, students at her high school in Burlington, Canada, decided to decorate her coffin with messages of love.
Hillier died on January 20 of acute myeloid leukemia after spending several months awaiting a stem cell transplant. She beat cancer four years ago, but it returned in May. Despite having a number of stem cell donor matches, a hospital bed shortage delayed Laura from having her life-saving operation.
In a July interview with CTV News, Hillier revealed that she was 33rd on a waiting list for a bed and the hospital could only accept five patients per month. Other hospitals across Canada had similar wait lists, and having her operation in the U.S. would have cost Hillier's family over $250,000, so they had little choice but to wait.
In the meantime, Hillier had to undergo unnecessary chemotherapy treatments to keep her cancer in remission. She told CTV it's a devastating reality that many people simply don't live long enough to make it off the wait list. "Some people relapse in the wait, so they get cancer again, some people die," she said. "And some people get infections, and either succumb to the infections or have permanent damage while waiting."
Hillier's family writes on her Facebook page that "though Laura was able to achieve remission for a second time, she relapsed again in November 2015 as she was not able to get a transplant bed in time." She spent some time in intensive care and was scheduled to go to City Of Hope in California for additional treatments on January 18, but medical complications postponed her trip and she passed away later that week. In a post on Imgur, a classmate shared the photo of her coffin, writing, "I couldn't possibly share this without including the message that a big part of why she died was due to long wait times for transplant patients."
The image of her coffin covered in handwritten notes from her classmates is not only a heartbreaking goodbye, but also a sobering reminder of the many lives taken from us too soon simply because people can't access the treatments they need. As Laura's story shows, even finding a donor match doesn't always guarantee a person will have a place to get their operation.
In the wake of Laura's death, her family is fighting to raise awareness about this issue and put an end to what they call the "deadly wait times" for transplant patients. They're also encouraging people to make donations in Laura's name to Coast to Coast, a charity devoted to fighting childhood cancer. Transforming Laura's coffin into a beautiful memorial was a stunning gesture, but it's one no teenager's parents or friends should ever have to make.
A previous version of this post incorrectly stated that Laura Hillier did not graduate or receive a yearbook. The post has been updated to reflect these changes.
This article was originally published on