Ten Of Our Favorite Fiction Reads Written By Black Women
by Elisha Beach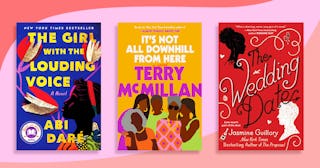 Scary Mommy and Bookshop.org
Do you ever pay attention to the author's race when choosing a book to read? Probably not. I don't think most of us do. We usually gravitate towards particular genres and read stories that we can relate to. However, searching out diversity in the books that we read does matter.
What we read is another way to diversify our lives. It's not good if the books we consume, whether they are fiction or nonfiction, are all about one race or one class of people. We often turn to nonfiction to expand our knowledge, but fiction also offers the opportunity to immerse ourselves in other people's stories.
With February being Black History Month, there is no better time to start diversifying your bookshelf with black stories. So here is a list of fiction books by Black women that you should definitely add to your reading list.
In this multi-generational novel, Brit Bennett beautifully weaves together multiple story lines to tell the story of Black twins Stella and Desiree. The story begins in the small town of Mallard, Louisiana, but at sixteen the twins escape to New Orleans and start two very different lives. One chooses to "pass" as a white woman and marries a white man and the other marries the darkest man she can find. Bennett shares their parallel stories and addresses issues of race, colorism and class in 20th century America.
Kiley Reid's debut novel is a quick read that is funny and engaging. The two main characters are white blogger and business owner Alix Chamberlain and her Black babysitter, Emira. While watching Alix's daughter, Emira is racially profiled and accused of kidnapping her in a grocery store. The incident is caught on camera and propels both Alex and Emira into the spotlight forever changing their relationship. This book is a quick read but still manages to bring to light big issues like racial profiling, microagressions and the "white savior" complex.
Gyasi's "Homegoing" is a beautifully written story that spans continents and generations. The story begins with half-sisters Effia and Esi who are born in two different villages in 18th century Ghana. One marries a British slaver, and the other is sold into slavery and shipped to America. Structured like a family tree, the story unfolds generation by generation showing the effects of the paths each sister took not only on them but generations to come. And Gyasi manages to equally engage you in each generation's story.
If you have been bitten by the Bridgerton bug and are on the search for historical romance novels, "An Extraordinary Union" should definitely be on your reading list. This is the first of three books of The Loyal League Series by novelist Alyssa Cole. It's an interracial love story between two spies set in the during the American Civil War. This book has espionage, suspense and sex and wrapped up in a well written novel with some historical substance.
Terry Mcmillan is not new to the scene. She has written some best selling books that turned into hit movies like "How Stella Got Her Groove Back" and "Waiting to Exhale." McMillan has a knack for telling the stories of mature black women and she does not fail us in "It's Not All Downhill From Here." This book tells the story of 68-year-old Loretha. She has a successful business and is happily married but an unexpected loss turns her world upside down as she has to figure out what she is going to do with the rest of her life.
If you are a fan of crime drama, Attica Locke's second book in her Highway 59 series is right up your alley. In this thrilling follow-up to "Bluebird, Bluebird," Texas Ranger Darren Matthews searches for a missing child in the racially tense setting of East Texas. The combination of mystery and family drama makes this a real page turner but it is recommended to read the first installment in the series before you get carried away with this one.
You may need a box of tissues for this emotional debut from author Anissa Gray. This novel shares the literal and figurative trials that upend the lives of sisters Althea, Viola and Lillian. It's not a happy story but it shows a family's raw and realistic journey to healing and forgiveness.
Don't worry sci-fi readers, you have not been forgotten. "The City We Became" is the first book of a new trilogy by Hugo award-winning author N. K. Jemisin. In this ode to New York City, five avatars are chosen to protect the city. They have to find a way to band together against a beast from another dimension. Jemisin builds a masterful world and uses the sci-fi genre to explore racism and gentrification.
Rom-com lovers, this is the book for you. This really cute romance novel starts with strangers Alexa Monroe and Drew Nichols meeting while trapped in an elevator. Alexa spontaneously agrees to be Drew's date for his ex girlfriend's wedding dates. And you can probably guess that the sparks fly from there.
Set in Nigeria, "The Girl With The Louding Voice" is the coming-of-age story of 14-year-old Adunni. She is trapped in a life she doesn't want for herself and fights for her dream of getting an education in what seems to be impossible circumstances. Abi Daré uses this heart breaking, yet inspiring story to address issues of women's inequality and the effects of a patriarchal society.
And no, you shouldn't read these books just because the authors are black and female but also because they are talented writers that have diverse stories to share. And maybe, just maybe, you will find a new favorite author or even broaden your own perspective after reading any of these fiction books by Black women.
This article was originally published on