Babies And Toddlers Being Held In 'Tender Age' Shelters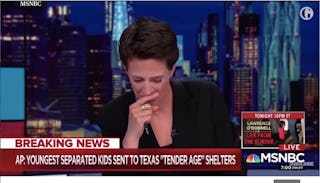 Image via Twitter/Rachel Maddow
Young children are being held in at least three "tender age" shelters in South Texas
With the Trump administration at the helm, every day brings fresh horror. Today's shameful headline involves small children being held in special "tender age" shelters away from their parents. Stories so unspeakable even seasoned news hosts can't tell them without breaking down. This is who we are now.
The Associated Press broke the horrible news yesterday that babies and young children are being forcibly separated from their parents at the US-Mexico border and sent to "tender age" shelters where they're away from their parents and cared for by the government. There are at least three of these shelters currently operating in South Texas. Lawyers and medical providers permitted to enter the shelters describe "play rooms of crying preschool-age children in crisis."
Last night, MSNBC host Rachel Maddow tried delivering the heartbreaking update on her show. This is how it went.
Yes, that's the typically stoic and professional Maddow choking up and crying on air, unable to speak the awful realities happening at our country's southern border. She later took to Twitter to apologize for breaking down and to share the news she was unable to read.
Support and understanding for Maddow was swift. After all, she's far from the only American to be rendered a speechless puddle of tears by the horrors happening before our very eyes.
According to the AP, the existing three shelters for young kids aren't even the end of it — another is slated to open in Houston soon, but city leaders are denouncing the move. Kay Bellor, vice president for programs at Lutheran Immigration and Refugee Service, an organization that provides foster care and child welfare services to migrant kids, was unflinching in her assessment of the current administration's policy of ripping babies and young kids from their parents.
"The thought that they are going to be putting such little kids in an institutional setting?" she says. "I mean it is hard for me to even wrap my mind around it. Toddlers are being detained."
People like Maddow will be looked back on one day as being on the unquestionably right side of history. The moment we can speak of such things without heartbroken cries escaping our mouths is the moment it's too late for our country to ever recover.