Tennessee Halts All Vaccine Outreach To Kids -- And Not Just For COVID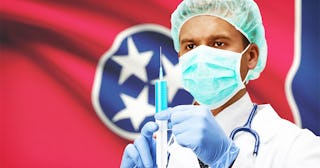 Niyazz/Getty
The state of Tennessee will no longer reach out to adolescents with vaccine information of any kind
The Tennessee Department of Health will no longer provide outreach materials to adolescents — not only for the COVID-19 vaccine — but for all immunizations, including flu and HPV. The move comes as Republican state lawmakers respond to "an intense national conversation that is affecting how many families evaluate vaccinations in general," according to the Tennessean.
An internal report and emails sent by the agency were obtained by the outlet showing a complete turn-around on previous communications and outreach to youth about the importance of vaccinations. The agency will no longer promote vaccination information to adolescents, hold COVID-19 vaccine events on school property, or acknowledge that August is National Immunization Awareness Month by sending out a press release. This direction comes directly from Health Commissioner Dr. Lisa Piercey.
This means postcards that used to be sent to teens to remind them to get their second vaccination will no longer occur, so the postcards are not "potentially interpreted as solicitation to minors," the report stated.
Currently, only 38% of Tennesseans are fully vaccinated. The agency that oversees the outreach is responsible for the public health in 89 of Tennessee's 95 counties. Jones told staff they should conduct "no proactive outreach regarding routine vaccines" and "no outreach whatsoever regarding the HPV vaccine."
Dr. Michelle Fiscus, Tennessee's former top vaccine official who spoke out about the decisions, was fired with no explanation on Monday. She believes she was terminated to bow down to republican lawmakers, who she believe are responsible for this sudden change.
"TDH leadership has responded by not only pulling back all COVID-19 vaccination events that were scheduled for adolescents, but now by ceasing all messaging around vaccines for children — whether they are infants or people who need HPV vaccines or the 30,000 kids that are behind on measles vaccines because of the pandemic," she told News Channel5. "We're not permitted to message any of that to Tennesseans, and that is a failure of public health and public health leadership.
Coronavirus cases are on the rise after months of declining infections in the state. The average number of new cases per day has gone from 177 to 418 in just the past two weeks alone. Tennessee and surrounding states are also seeing an increase in the number of infections from the Delta variant, which is spiking in unvaccinated populations.
Piercey told NewsChannel 5 that the demand for the COVID-19 vaccine is low and because of that, the state will not accept the government's full allotment of doses, so even if people want to get vaccinated, the option may not exist.
"When the people elected and appointed to lead this state put their political gains ahead of the public good," Fiscus said, "they have betrayed the people who have trusted them with their lives."