Terminally Ill Dad Finds A Touching Way To Be Present At His Kids' Future Weddings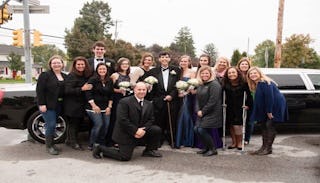 Losing a loved one to a terminal illness is overwhelmingly painful, but one Pennsylvania family recently got the opportunity to replace some of that pain with a day of pure joy.
Ken McHugh, a devoted husband and father, was diagnosed with neuroendocrine pancreatic cancer in 2010. He was given only two years to live, but has since enjoyed five more years of life with his wife, Tammy, and their four beautiful kids. Recently, his condition worsened, and doctors have advised him to stop treatment and try to enjoy the time he has left.
Like all parents, McHugh wants desperately to be a part of the big milestones in his kids' lives. One of his greatest wishes was to be able to walk his children down the aisle. A local charity, Team CMMD, heard about Ken's story and decided to make his wish come true. They gifted the McHugh family with a beautiful wedding ceremony so they could all have the chance to make memories together no matter what happens.
The wedding took place on October 3 and started with Ken and Tammy renewing their vows. Ken then got the opportunity to walk each of his children down the aisle and gift them with a blue handkerchief and a letter to read on their actual wedding day. The charity also provided formal wear for each member of the family and a ride in a stretch limo, as well as a beautiful Italian wedding feast.
According to Buzzfeed, Ken found the strength to walk all of his children down the aisle, even though it meant he had to spend the next two days in bed recovering. His wife said it's an event the entire family will cherish forever. "We were all concerned it would be full of sorrow," she told Buzzfeed writer David Mack, "but actually it turned out quite beautiful. We were happy and in the moment… it was a day of love."
Ken McHugh's ultimate wish is to leave his family financially secure and to send his kids to college. He's been on disability and unable to work since his diagnosis, so he set up a GoFundMe to raise money for medical and education costs. To date, the fund has raised almost $39,000 of his $250,000 goal.
It's impossible to know what the future holds or how much time Ken has left, but it's so incredible that his family got to have this day together. Their joy and the depth of their love for one another is truly inspiring, and I wish there was any amount of money or well-wishes that could spare them the incredible pain they must be feeling. Ken wrote on his GoFundMe that he is "not the first cancer patient, nor the last," but that doesn't doesn't diminish his struggle or the irreplaceable spot he holds in his family's life. Kudos to Team CMMD for giving the McHughs a day they can carry in their hearts forever.