'Credible Terror Threat' Forces 640,000 Kids Out Of School In Los Angeles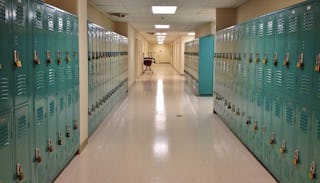 Los Angeles Unified School District, the second largest district in the nation, was forced to shut down this morning after police received what they're describing as a "credible terror threat." The threat was received electronically just after 5 a.m. local time and targeted several L.A. schools. According to the New York Times, all early buses with children on them were turned around, and parents were asked not to bring their kids to school. Classes have been cancelled until further notice.
Superintendent Ramon C. Cortines says he's working with the local police and the FBI to identify the source of the threat. He also told the Times he's asked officials to search every one of the 1,087 school buildings within the district, and won't reopen them until he's certain students and staff will be safe.
"I've asked the plant managers to walk the school, and if they see anything that is out of order to call the police. Not to touch anything, but if they see anything out of line to contact the proper authorities … I'm not taking a chance to bring students into a school until I know it is safe."
There are 640,000 students currently enrolled in the Los Angeles Unified School District, and many parents are understandably terrified and furious. Wrote one mom on Facebook:
"My blood is boiling right now!!!!!! 640,000 children are not in school today throughout over 900 public schools across 720 plus miles in Los Angeles and surrounding areas. And what are then the processional effects of the parents that are not able to work, in order to make arrangements to stay home with their children? What are we doing about these terrorist threats?????!!!!! Don't get me wrong, as a parent, of course I would want to keep my children safely in my arms at home but how can we continue to live in fear like this?!!!!"
The school cancellation is most assuredly in everyone's best interest, but you can hardly blame people for being scared and upset. Less than two weeks ago a terrorist attack in nearby San Bernardino left 14 people dead and 22 others wounded. Yesterday was the third anniversary of the Sandy Hook Elementary shooting, a day in which all of us collectively felt sick to our stomachs at our inability to protect our children from the terrible violence that plagues our nation.
When does it stop? And, even if you can make arrangements for your kids to be home, make up the missed work, and make up for the class time they're losing out on, how are parents supposed to feel okay sending their kids back to school after something like this? How is anyone supposed to feel safe when half a million kids are out of school because of credible terror threats? Living and trying to parent with this constant fear and anxiety is exhausting.
There's something very wrong when children and teachers can't even go about their normal school days without being threatened. Hopefully there is no merit to these threats, and everyone stays safe. Either way, the fact that this happened at all is disturbing, and something needs to change.
This article was originally published on