Terry Crews Nailed His King Triton Audition Tape For 'The Little Mermaid'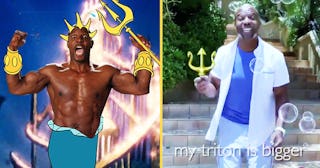 Terry Crews/Instagram
After this audition tape, someone just give Terry Crews a role in The Little Mermaid right now
With the news that Halle Bailey will be playing the starring role in Disney's live-action remake of The Little Mermaid, the job now is to flesh out the rest of the cast with people as amazingly talented and perfect for their roles as Bailey, which is no small order. Luckily, celebs are stepping up and volunteering themselves for the roles they want, and a lot of them would be genuinely fabulous, like either Lizzo or Melissa McCarthy as Ursula, because this is not a drill, folks, they both want that role. Pinch me, I'm clearly dreaming a dream of the most perfect Disney remake of all time.
And now there's another name to add to my dream cast list for this movie: Terry Crews. Crews, who is one of the most talented comedic actors on the entire planet (source: Brooklyn 99), has stepped up and thrown his hat in the ring for the role of King Triton, Ariel's strict but loving dad.
Is it just me, or does Terry Crews just have Big Dad Energy™ like whoa? Plus he's equal parts hilarious and intimidating AF, which makes him pretty much the perfect choice to play the poor, unfortunate soul who has to try to wrangle the stubborn and fiercely independent Ariel while also running an underwater kingdom. Just sign me right up for this casting.
To help seal the deal, Crews went ahead and recorded his audition tape and posted it to social media for all of us to see. And let me be the one to tell you this ends all discussion and proves that Terry Crews is the King Triton we want and need. Observe.
Sure, King Triton doesn't actually sing "Under the Sea" in the movie, but that's fine. We're not complaining. And when Terry Crews says his pecs are better and his, um, trident is bigger under the sea, the only reasonable reaction is to throw him in the damn water.
In conclusion, if Disney doesn't take note and just hand this role over to Terry, I will feel personally victimized. If someone could let Bob Iger know, that would be super. Internet, do your thing.